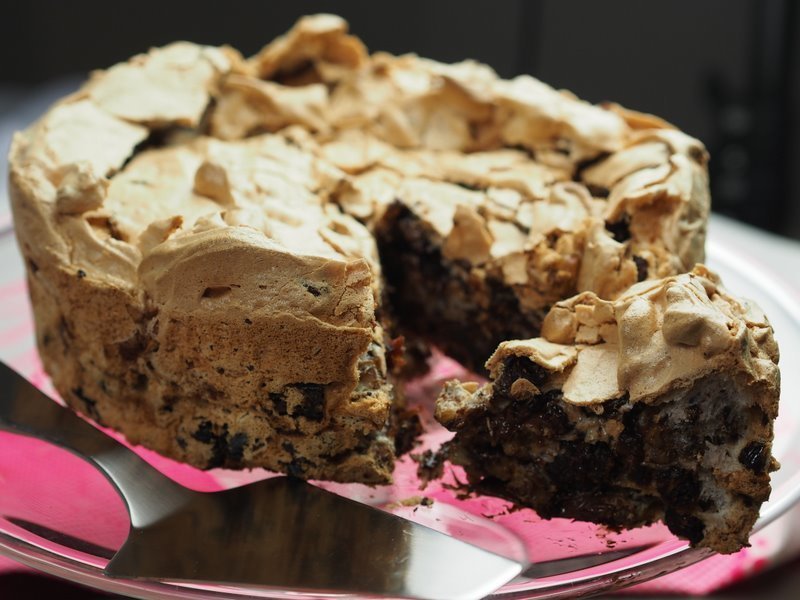 Ingredientes
para Quantity guaranteed to induce diabetes
250g roughly chopped dark chocolate
250g whole unblanched almond ( blitzed in a food processor)
250g finely chopped dates
6 egg whites whisked until still peaks form
125g caster sugar
Block of Cadbury Roasted Almond Milk Chocolate
T. Preparacion → 15 min
T. Cocinado → 45 min
1. Gradually beat the sugar into the stiff egg whites.
2. Add the chopped ingredients - fold in gently.
3. Turn into greased, foil-lined 23cm cake tin and bake at 180o for 45 minutes.
4. At the end of cooking time turn the over off, open the door and leave cake to cool in oven.
5. Remove when cool and place in refirgerator to chill (leave in cake tin).
6. To serve, remove cake from tin, spread with whipped cream and top with roughly chopped Cadbury Roast Almond Chocolate or similar. Strawberries also look nice.
postres, almonds, chocolate, cream, dates, egg, meringue April 05, 2015 11:16
Autor Fiona's friend from school brought this in for morning tea one day.
Comparte la receta con tus amigos
A nadie le ha gustado esta receta.
0 comentarios