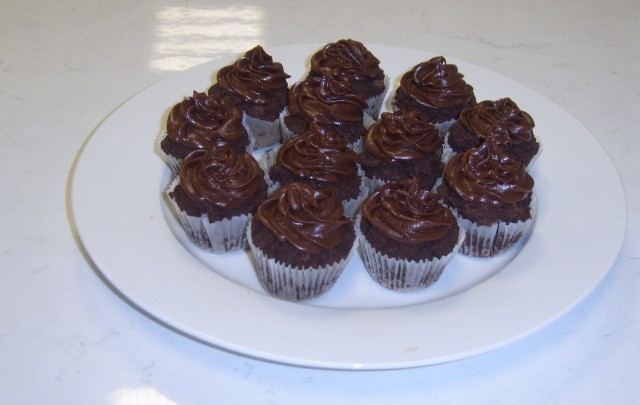 Ingredientes
para 8 muffins
1 cup (150g) plain flour
1/3 cup (35g) cocoa powder
1 teaspoon bicarbonate of soda
1/8 teaspoon salt
100g Natvia
¼ cup (60g) butter, softened
4 egg whites
1 teaspoon vanilla extract
½ cup low-fat buttermilk
35g dark chocolate, finely chopped
Ingredients - Chocolate Icing
125g butter
2 tablespoon Natvia
2 tablespoon dark cocoa
30g dark chocolate, melted
T. Preparacion → 20 min
T. Cocinado → 45 min
1. Preheat the oven to 180ºC and line a 12 hole cupcake tray. Combine the flour, cocoa powder and bicarbonate of soda in a bowl and set aside. Beat the Natvia and butter in a separate bowl until well combined. Add the vanilla and eggwhites and beat well.
2. Add the flour mixture and buttermilk alternatively to the bowl, beginning and ending with the flour. Fold in the chocolate, then spoon evenly into the lined tray. Bake for 18 minutes, then remove from the pan and leave to cool completely on a wire rack. Decorate with chocolate icing and serve.
Method - Chocolate Icing
Combine all the ingredients in a bowl and mix to combine.
Tips and Tricks
Natvia can be substituted with 50g Natvia and 50g Vitarium Chocolate drinking mix.
postres, natvia April 10, 2015 14:22
Autor David L
Comparte la receta con tus amigos
A nadie le ha gustado esta receta.
0 comentarios