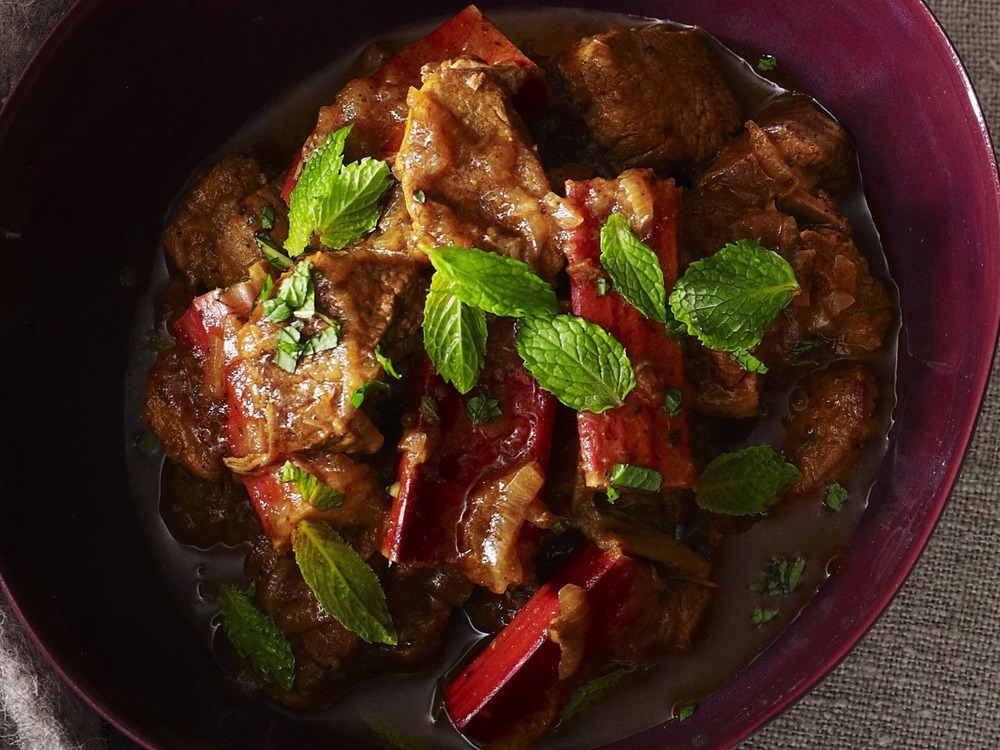 Ingredientes
para Serves 4
40g butter
1kg diced lamb
1 medium brown onion sliced thinly
1/2 teaspoon ground cinnamon
1/4 teaspoon ground turmeric
1/4 teaspoon ground cumin
1/4 teaspoon saffron threads (optional)
1 cup water
2 cups chicken stock
2 tablespoons tomato paste
2 3/4 cups coarsely chopped rhubarb
1/4 cup finely chopped fresh mint
T. Preparacion → 30 min
T. Cocinado → 120 min
1. Melt half the butter in a large saucepan, cook lamb in batches until browned. Remove from pan.
2. Melt remaining butter in same pan, cook onion, stirring until soft. Add spices, cook, stirring until fragrant.
3. Add the water, stock and paste, bring to the boil.
4. Return lamb to the pan. Reduce heat, simmer covered for 1 hour 20 minutes or until lamb is tender.
5. Add rhubarb to lamb mixture, simmer uncovered about 10 minutes or until rhubarb has softened.
6. Stir mint into stew at last minute. Season to taste. Serve with cous cous.
segundos, cous cous, cumin, lamb, mint, rhubarb, persian, turmeric August 06, 2017 03:31
Autor 9781742456072 Women's Weekly Casseroles & Curries p.224
Comparte la receta con tus amigos
A nadie le ha gustado esta receta.
0 comentarios