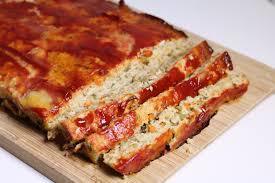 Ingredientes
para Serves 4-6 people
500g sausage meat (I skinned about 8 sausages)
250g minced beef
1 cup breadcrumbs plus extra for rolling
1 small leek, finely chopped
1 green apple, peeled and grated (I used a red apple because I didn't have a green one and it worked fine)
1 egg
1/4 cup chopped parsley
2 tablespoons wholegrain mustard
2 garlic cloves finely chopped
Oil to grease
Mashed potatoes and vegetables or salad to serve
T. Preparacion → 15 min
T. Cocinado → 420 min
1. Mix all the ingredients in a large bowl until well combined. Shape into a loaf the length of your slow cooker and roll it in breadcrumbs (I didn't roll in breadcrumbs and it worked fine).
2. Oil the slow cooker and add the meatloaf.
3. Cook on LOW for 6-8 hours.
4. Remove meatloaf from the slow cooker, cover with foil and allow to rest for 20 minutes before carving.
5. Serve with mashed potato and vegetables or a fresh green salad.
6. NOTE: If you notice a lot of moisture building up, pop a tea towel under the slow cooked lid.
segundos, mince, sausages, slow cooker September 09, 2018 01:30
Autor Slow Cooker Central : Kids by Paulene Christie ISBN 9780733339226 p. 206
Comparte la receta con tus amigos
A nadie le ha gustado esta receta.
0 comentarios