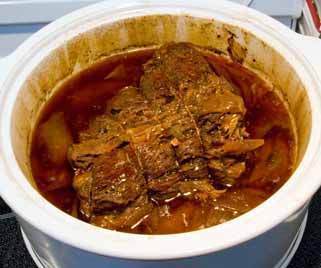 Ingredientes
para 8 people
4 lb pot roast or topside steak seasoned with salt & pepper
1/4 cup of tomato sauce
2 sliced onions
1 desertspoon brown sugar
1 teaspoon mixed mustard
1 tablespoon vinegar
1 desertspoon worcestershire sauce
T. Preparacion → 20 min
T. Cocinado → 350 min
1. Brown meat all over in hot fat for 20 mins.
2. Brush joint all over with all ingredients.
3. Put into thick saucepan or slow cooker and add one cup of water. Cover closely and cook gently until meat is tender (two hours if in saucepan - more if in slow cooker).
4. Turn twice while cooking add water if necessary.
5. When cook thicken the sauce with flour and serve as gravy.
segundos, meat, beef, slow cooker July 16, 2011 09:38
Autor Kathy and Bev Yates
Comparte la receta con tus amigos
A nadie le ha gustado esta receta.
0 comentarios