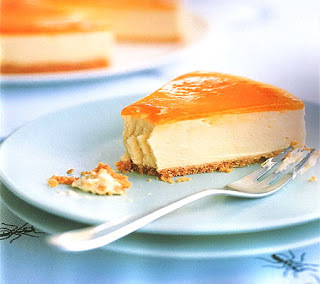 Ingredients
for 20cm cheesecake
155g plain sweet biscuits
75g butter (melted)
FILLING
470g can apricot nectar
1 tablespoon gelatine
375g packaged cream cheese
1/2 cup castor sugar
1 tablespoon lemon juice
1 cup cream
TOPPING
1 tablespoon sugar
3 teaspoons cornflour
1-2 teaspoons rum to taste (optional)
1. BASE: Combine finely crushed biscuit crumbs and melted butter, mix well. Press mixture firmly onto base of 20cm springform pan, refrigerate while preparing filling.
FILLING: Measure 1 cup apricot nectar from can (reserve remainder for topping). Pour nectar into small saucepan, sprinkle gelatine over. Place over low heat and stir until gelatine dissolves.
Allow to cool and thicken slightly.
Whip the cream and set aside.
Beat softened cream cheese and sugar until mixutre is smooth and creamy. Add Lemon juice. Beat in apricot mixture, then fold in whipped cream.
Pour mixture onto crumb base and refrigerate two hours or until firm.
TOPPING: Make this about a 30 minutes to an hour after the cheesecake.
Place sugar and cornflour in saucepan, gradually stir in remaining apricot nectar. Bring mixture to the boil, stirring constantly.
Remove from heat, add 2 teaspoons of rum (optional).
Continue stirring for a few minutes to allow mixture to cool slightly (sometimes might need to leave it to cool for 5 minutes). Spread the topping over the half-set cheesecake, refrigerate until both topping and cheesecake are set.
desserts, apricot, lemon, philly cheese September 13, 2015 01:45
Author Womens Weekly Best Ever Recipes Book 1986 edition