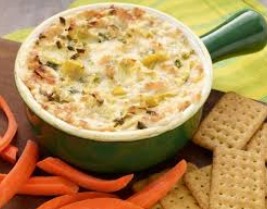 Ingredients
for 500ml of dip
1 tin artichokes
1 cup Parmesan cheese
1 cup Whole egg mayonnaise
Handful Spring onions choppped
Prep. Time → 5 min
Cook Time → 20 min
1. Combine drained and roughly chopped artichokes, finely chopped spring onion, mayonnaise and half the Parmesan in a food processor.
2. Process roughly and transfer to ovenproof dish. Sprinkle the remaining parmesan on top.
3. Cook for 20 mins on 180 degrees.
4. Serve warm with cheese and biscuits platter.
appetizers, artichoke, dip, parmesan December 30, 2017 04:46
Author Cathy Milford's recipe
Share the recipe with your friends
No one has liked this recipe.
0 comments