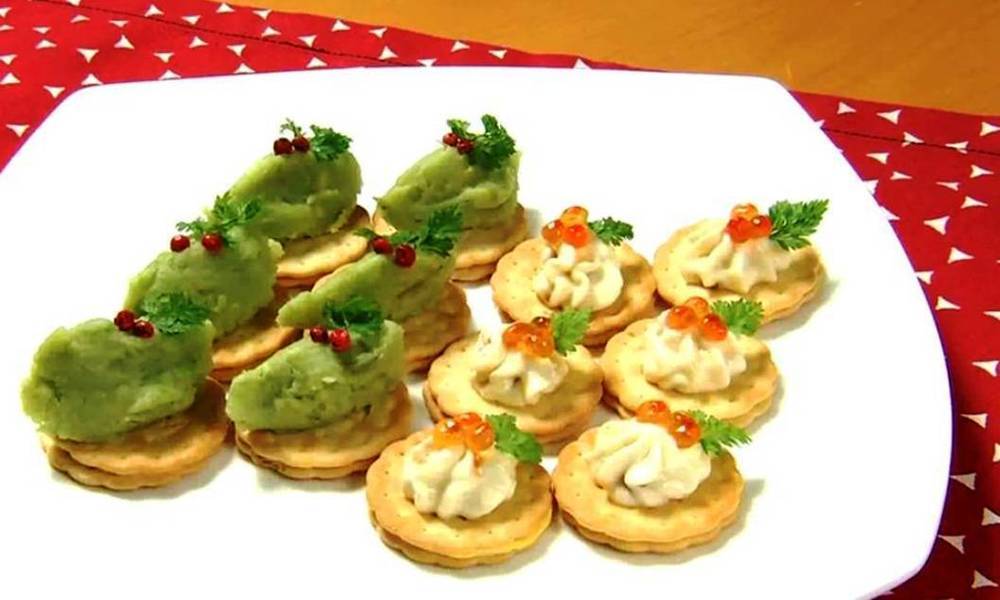 Ingredients
for 12 pieces canape
12 pieces Cheese cracker / salted cracker, as a base of canape
1/2 nos Avocado, For the avocado canape
1/2 nos Potato, For the avocado canape
1 pinch Salt, For the avocado canape
1 pinch Ground pepper, For the avocado canape
as need whole pink pepper, For the avocado canape
as need Chervil leaves, For the avocado canape
3 tablespoon Cream, For the Apricot cream canape
2 teaspoon Apricot jam, For the Apricot cream canape
as need Salmon roe, For the Apricot cream canape
as need chervil leaves, For the Apricot cream canape
Prep. Time → 15 min
Cook Time → 20 min
2. Arrange the base on the plate or pan, where the canape will not be moved after finished made, as transferring the well-made canape may collapse it.
3. Prepare the dip and sit the dip on the crackers.
4. Garnish and light the canape up.
6. Remove the skin and seed of the avocado, cook and soften the potato in a hot simmering water.
Mash the potato and avocado in a bowl, then season with salt and paper and mix them well.
7. Shape the avocado dip and sit on the crackers, then garnish with whole pink pepper and chervil leaves.
9. Mix well the cream and the apricot jam.
Pipe the cream mixture on the cracker with a piping bag, or any shape you like.
10. Garnish with salmon roe and chervil leaves.
CREAM APRICOT CANAPE
appetizers, apricot, avocado, cookies, crackers, cream, potato, canape, cold food, salmon roe, chervil, pink pepper October 01, 2016 12:06
Author https://veggiemeatlicious.blogspot.my...
Share the recipe with your friends
No one has liked this recipe.
0 comments