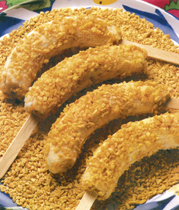 10 bananas (use ripe ones)
¼ cup 100% orange juice
½ cup crushed peanuts
1. Utensils
Shallow bowl
Chopping board or foil
Popsicle sticks (ask Mum or Dad to buy them at the supermarket)
2. Method
1. Peel bananas.
2. Pour some orange juice into a bowl. Dip bananas into orange juice.
3. Spread the crushed peanuts on a board or a piece of foil.
4. Roll bananas in crushed peanuts.
5. Put popsticks into the bananas and place into the freezer until frozen.
6. Eat!
October 19, 2011 11:00