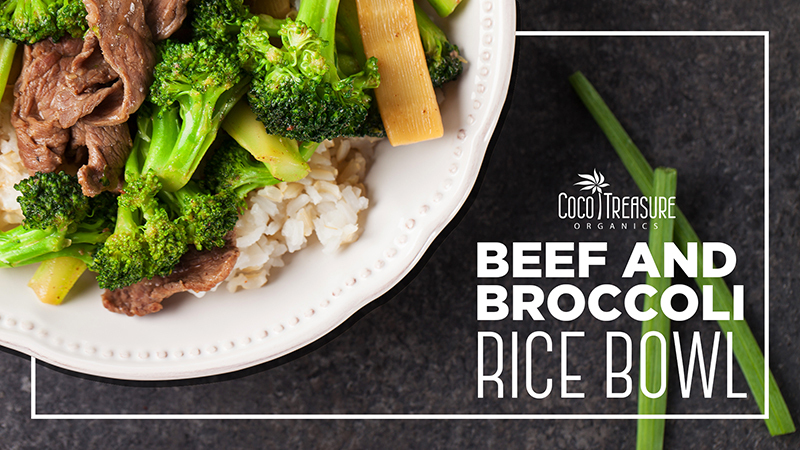 Ingredients
for 4 Servings
½ tbsp. juice
1 lb. flat iron steak (sliced thinly)
1 pc. shallot minced
1 tbsp. Thai seasoning
1 tbsp. packed brown sugar
1 cup coconut milk + ¾ cup coconut milk
1 pc. large broccoli
1 ½ cups water
1 ½ cups sticky rice sweet
2 tsps. fresh ginger
2 tbsps. soy sauce
3 cloves garlic minced
3 tbsps. Coco Treasure Organics Extra Virgin Coconut Oil
Toasted sesame seeds and fresh cilantro for topping
Prep. Time → 330 min
Cook Time → 30 min
1. Add 1 ½ cups of cold water to sticky rice. Cover and leave in the fridge overnight.
2. Pour the refrigerated rice and water into a saucepan. Add ¾ cup coconut milk and allow to boil in medium heat.
3. Once the rice is boiling, cover and turn the heat to low. Let simmer for 10 minutes until the liquid is already absorbed and rice is tender.
4. Remove the pan from the heat, but keep covered for another 5 minutes.
5. In a skillet, heat a tablespoon of Coco Treasure Organics Extra Virgin Coconut Oil over medium heat. When the desired heat is reached, sauté 1/3 of the sliced beef, ideally 1 to 2 minutes per side until it begins to brown. Set aside on a plate. Do it again with the remaining beef. Add more coconut oil if needed.
6. Using the drippings of the beef in the skillet, sauté the ginger, garlic, and shallots. Add the broccoli and cook for 3 minutes.
7. Pour soy sauce, coconut milk, lime juice, and sugar. Let them simmer for another 3 minutes to thicken the sauce.
8. Stir in the beef. Be sure the sauce evenly coats the meat.
9. Put the rice in your desired serving bowls.
10. Take the beef and broccoli mixture. Place it on top of the rice. Garnish with fresh cilantro and sesame seeds.
main courses, coconut oil, main course, beef and broccoli rice bowl, rice bowl, beef and broccoli, beef and broccoli with coconut oil January 16, 2018 07:32
Author https://cocotreasure.com/recipes/beef...
Share the recipe with your friends
No one has liked this recipe.
0 comments