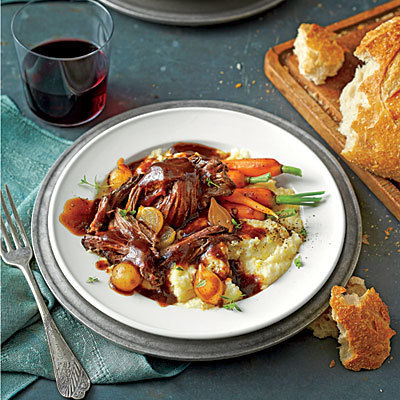 Ingredients
for 6 to 8 people
1 pound small carrots with tops, peeled
1 (3- to 4-lb.) boneless chuck roast, trimmed
2 teaspoons kosher salt
1 teaspoon freshly ground black pepper
2 tablespoons instant dark roast coffee
2 tablespoons olive oil
3 tablespoons tomato paste
4 garlic cloves, chopped
2 (12-oz.) bottles stout beer
2 tablespoons fresh thyme leaves
2 (1-oz.) containers home-style concentrated beef stock (from a 4.66-oz. package)
2 pounds pearl onions
1 tablespoon balsamic vinegar
2 tablespoons cornstarch
Hot cooked grits
Garnish: fresh thyme sprigs
Prep. Time → 35 min
Cook Time → 540 min
1. Cut tops from carrots, leaving 1 inch of greenery on each. Sprinkle roast with salt and pepper. Rub coffee over roast, and let stand at room temperature 10 minutes. Cook roast in hot oil in a large skillet over medium-high heat 3 to 5 minutes on each side or until browned, reserving drippings in skillet. Place roast in a 6-qt. slow cooker.
2. Add tomato paste and garlic to hot drippings, and sauté 1 minute. Slowly add beer, whisking constantly. Stir in thyme and concentrated beef stock; bring to a boil. Boil, stirring occasionally, 8 minutes or until mixture reduces to about 3 cups.
3. Pour beer mixture over roast. Top roast with onions and carrots. Cover and cook on LOW 8 to 10 hours or until roast is fork-tender. Transfer roast to a serving platter, and shred into large chunks, discarding any large pieces of fat. Spoon vegetables onto platter around roast.
4. Skim fat from cooking liquid; transfer cooking liquid to a large saucepan. Whisk in vinegar. Whisk together cornstarch and 2 Tbsp. water in a small bowl until smooth; add to mixture in pan, stirring until blended. Bring mixture to a boil, and boil, whisking often, 1 minute or until sauce reaches desired thickness. Serve sauce with roast, vegetables, and hot cooked grits.
5. I use Guinness Extra Stout beer and Knorr Homestyle Concentrated Beef Stock.
main courses, beef, crockpot, dinner January 07, 2015 13:33
Author myrecipes.com/recipe/beer-...
Share the recipe with your friends
No one has liked this recipe.
0 comments