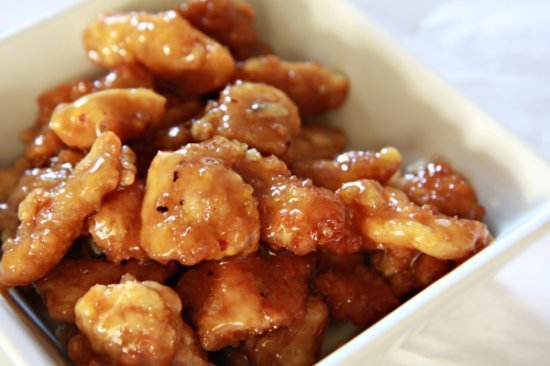 Ingredients
for Better Than Takeout Orange Chicken
Chicken
2 lbs boneless skinless chicken breasts or thighs, cut into 1-1/2" cubes
1 ½ cups corn starch
1 cup panko bread crumbs
2 eggs, beaten
¼ teaspoon salt
¼ teaspoon pepper
Oil (for frying)
Orange Sauce
1 ½ cups water
1/4 cup orange juice
1/3 cup rice vinegar
2 ½ tablespoons soy sauce
1 tablespoon orange zest, grated
1 cup packed brown sugar
½ teaspoon ginger root, minced
½ teaspoon garlic, minced
2 tablespoons green onion, chopped
¼ teaspoon red pepper flakes
3 tablespoons cornstarch
2 tablespoons water
1. Combine corn starch, salt, and pepper. Prepare a bowl with beaten eggs, another with panko bread crumbs and another with corn starch. Dip chicken in egg mixture, dredge in cornstarch, then again in the eggs and finally in the panko bread crumbs, set aside. Heat pan with vegetable oil to 375 degrees, fry chicken in batches until completely cooked.
2. In a large saucepan combine 1 ½ cups water, orange juice, rice vinegar, and soy sauce. Blend well over medium heat for a few minutes. Stir in brown sugar, orange zest, ginger, garlic and red pepper flakes. Bring to a boil.
3. Combine 3 tablespoons of cornstarch with 1/4 cup of water and mix thoroughly. Slowly stir cornstarch mixture into sauce until it thickens. Pour sauce over breaded chicken, and if desired garnish with green onions.
December 05, 2011 03:27