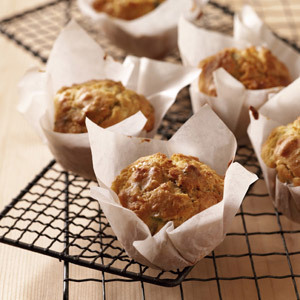 5oz butter
1 large or 2 small parsnips, peeled and grated
7 oz blue cheese, grated or crumbled
10 oz plain flour
3 tsp baking powder
4 oz polenta
284ml buttermilk (or one tub)
3 eggs
Prep. Time → 20 min
Cook Time → 30 min
1. In a large bowl (sorry can't whiz this one!) whisk buttermilk, eggs and melted butter.
3. Add baking powder, polenta, parsnip, and about 75% of the blue cheese
4. Line a muffin tin with individual pieces of greased baking sheet. ( Yes, I know its a pain, but they look cute, and muffin cases set like concrete to the scones...)
5. Dollop evenly between the 12 muffins, and sprinkle the remaining blue cheese on top.
6. Gas 6, 30 min. Watch the colour doesn't go too brown
side dishes, cheese, scone, packed lunch idea December 26, 2011 20:46