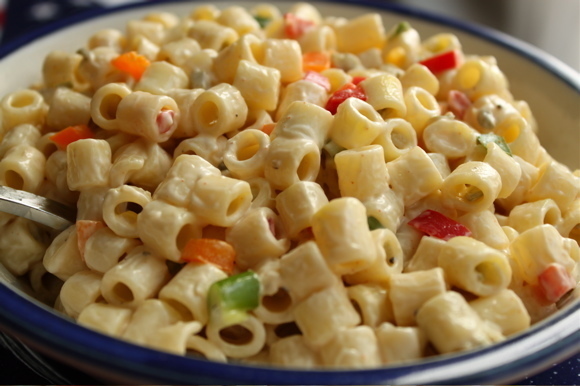 100 gr macaroni
1 pc small carrot
3 spoons green peas (additional)
1 pc sausage
3 pc nuggets
1 tablespoon mayonnaise
1 teaspoon tomato ketchup
Prep. Time → 5 min
Cook Time → 15 min
1. Boil the macaroni in a big pan, don't forget to add some salt (about half teaspoon for this recipe) and oil (so it won't stick or glued to each other). Cook until the texture looks like jelly. When you're done, put them in a basket or any bowl with lots of hole on it to let it dry.
2. Pre-heat the pan to fry the meat material, pour some cooking oil on it. Slice the sausage into a big chunk (rectangular kinda thing) and then drop them on the pan with the nuggets. Fry until it's golden brown and cool it down a little while.
3. Pre-heat another frying pan (smaller one) and melt about a teaspoon of butter. Now, chop the carrot into a big chunk (just like the sausage) and put them on the pan with the peas. Don't fry them for too long, just until it's a bit floppy and not too hard to chew anymore. It's basically just to add a little taste on the carrot and the peas.
4. You may put them on a paper towel or tissue so it will be 'oil-free'.
5. Now, put the macaroni on your plate (use the large one because you're going to have many items on it) and add some mayonnaise and tomato ketchup on top of it. Stir it well until all mixed.
6. Drop the carrot and the peas on your plate, and don't forget to put the nuggets and the sausages as well. Now, your breakfast is ready.
main courses, breakfast, carrot, chicken, green pea, macaroni, mayonnaise, sausage, tomato paste, vegetable, nugget February 28, 2013 02:46
Share the recipe with your friends
No one has liked this recipe.
0 comments