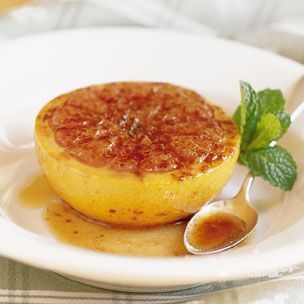 2 large grapefruits, well chilled
1/2 cup firmly packed light brown sugar
2 Tbs. unsalted butter, melted
1 tsp. ground cinnamon
4 small fresh mint sprigs
2. Cut each grapefruit in half crosswise. Cut a thin slice off the bottom of each half, if necessary, so that it will stand upright.
3. Using a serrated grapefruit knife or a small, sharp knife, loosen the grapefruit segments in each half by first carefully cutting between the fruit and the peel and then by cutting along either side of each segment to free it from the membrane. Leave all the segments in their shells. Place the halves upright in a baking dish.
4. In a small bowl, stir together the brown sugar, butter and cinnamon. Using your fingers, sprinkle the sugar mixture evenly over the grapefruit halves. Slip under the broiler about 4 inches from the heat source and broil until the sugar is uniformly bubbly, 2 to 3 minutes.
5. Transfer each grapefruit half to an individual dish and garnish with a mint sprig. Serve immediately. Serves 4.
starters December 29, 2011 22:25
Author williams-sonoma.com/recipe...
Share the recipe with your friends
No one has liked this recipe.
1 comment