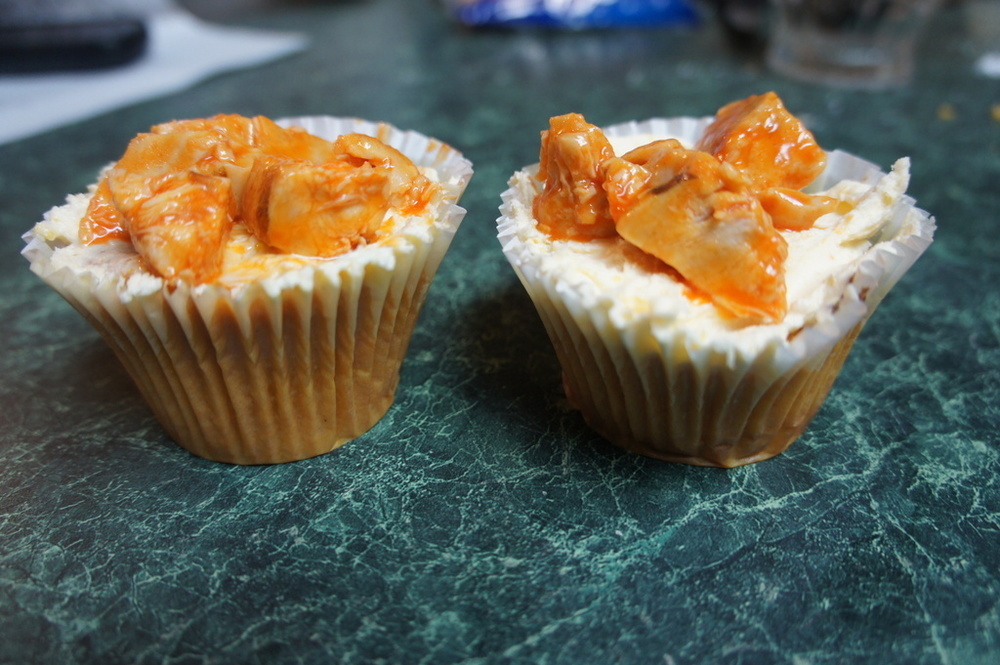 1/2 cup hot sauce (I recommend a hot sauce that is typically used for Buffalo chicken. Frank's is the classic choice. I used Bella's Medium Wing Sauce.)
1/4 cup unsalted butter
1/2 cup crumbled blue cheese
1 cup brown sugar
1/4 cup + 2 tablespoons sour cream
1 egg
1 cup flour
1 1/4 teaspoons baking soda
For the blue cheese buttercream frosting
2 ounces crumbled blue cheese
1/2 cup unsalted butter, room temperature
2 cups powdered sugar
Prep. Time → 15 min
Cook Time → 20 min
1. Preheat oven to 350 F.
2. In a medium-sized saucepan on medium-high heat, heat hot sauce and butter until butter is melted.
3. Add the blue cheese and mix periodically until blue cheese is melted.
4. Remove from heat and mix in the sugar.
5. In a small bowl, whisk together the sour cream and egg.
6. Once the hot sauce mixture is cool enough to touch, mix the sour cream mixture into the hot sauce mixture.
7. In another small bowl, mix together the flour and baking soda.
8. Fold the flour mixture into the hot sauce mixture.
9. Fill cupcake liners 3/4 full.
10. Bake for 20 minutes or until a toothpick comes out clean.
11. To make the blue cheese buttercream frosting:
12. Mix blue cheese on high speed until smooth.
13. Add the unsalted butter and mix on high speed until light and fluffy (about 3 minutes).
14. Slowly mix in the powdered sugar until fully combined.
15. Pipe or spread onto cooled cupcakes.
appetizers, buffalo, buffalo chicken, chicken, cooking, cupcake, recipe, buffalo chicken cupcake February 23, 2012 17:53