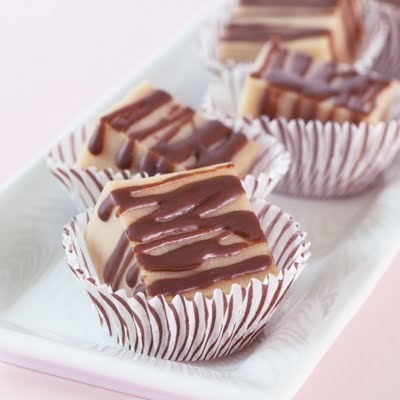 Ingredients
½ cup water
3/8 cup vanilla ice cream, melted
2 envelopes Knox gelatin
¼ cup Kahlua
¼ cup crème de cacao
¼ cup Bailey's
1/8 cup light rum
1/8 cup dark rum
1/8 cup amaretto
1/8 cup Coco Lopez
Magic Shell ice cream topper, for garnish, if desired
Directions
1. Pour water in saucepan, sprinkle with gelatin. Allow gelatin to soak for a few minutes. Add the melted ice cream. Heat over very low heat until gelatin is dissolved, stirring constantly (approximately 5 minutes). Once combined, stir in the Coco Lopez, rum and the liqueurs.
2. Pour mixture into standard glass or non-reactive metal 1 lb loaf pan (approximately 8" x 4"). Refrigerate until fully set (several hours or overnight).
3. To serve, cut into desired shapes. Drizzle with Magic Shell, and place in freezer for 30 seconds to harden. Return to refrigerator until immediately before serving.
drinks, jello, jelly November 10, 2011 00:53