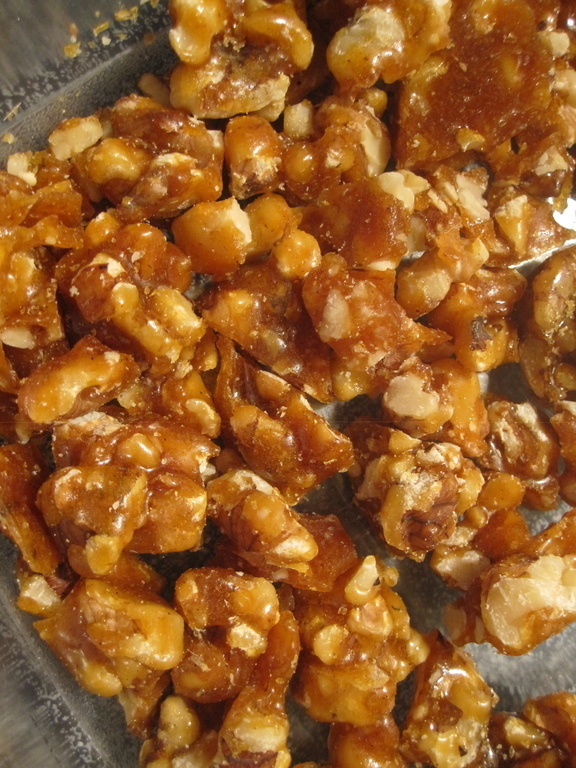 Ingredients
1/3 cup sugar
2/3 cup chopped walnuts, toasted
1/2 teaspoon kosher salt, divided
2 tablespoons white balsamic vinegar
1 1/2 teaspoons Dijon mustard
3 tablespoons extra-virgin olive oil
1 tablespoon capers, chopped
4 cups torn green leaf lettuce
4 cups chopped romaine lettuce $
4 cups chopped radicchio
1 ripe red Anjou pear, thinly sliced
1/4 teaspoon freshly ground black pepper
1. Place sugar in a small, heavy saucepan over medium-high heat; cook until sugar dissolves, stirring gently as needed to dissolve sugar evenly (about 1 minute).
2. Continue cooking 1 minute or until golden (do not stir). Remove from heat; carefully stir in nuts to coat evenly.
3. Spread nuts on a baking sheet coated with cooking spray; separate nuts quickly. Sprinkle with 1/4 teaspoon salt. Set aside until cool; break into small pieces.
4. Combine vinegar and mustard, stirring with a whisk. Gradually add oil, stirring constantly with a whisk. Stir in capers.
5. Combine lettuces and radicchio; top with pear and candied walnuts. Drizzle dressing evenly over salad; sprinkle with remaining 1/4 teaspoon salt and pepper. Toss gently to combine.
side dishes, pears, salad, walnuts November 25, 2012 03:03
Author myrecipes.com/recipe/candi...
Share the recipe with your friends
No one has liked this recipe.
0 comments