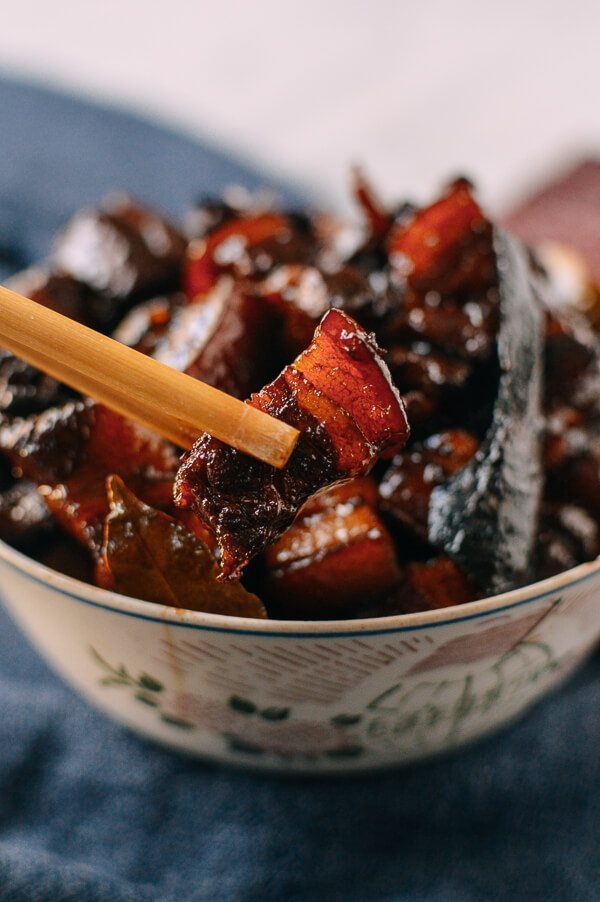 Chairman Mao's Red Braised Pork Belly is a famous Chinese dish with many slight variations. This recipe involves caramelized sugar, spices, and soy sauce, to create an incredibly flavorful pork belly that you'll want to make again and again.
Recipe type: Pork
Cuisine: Chinese
Serves: 6-8
Ingredients

2 pounds pork belly, cut into ¾-inch pieces
6 slices ginger (divided)
2 tablespoons oil
3 tablespoons sugar or 40 grams rock sugar, plus ½ teaspoon
3 scallions, diced with the white and green parts separated
½ cup Shaoxing wine
3 tablespoons light soy sauce (生抽)
1½ tablespoons dark soy sauce (老抽)
1 piece of cinnamon
2 star anise
4 bay leaves
1-2 dried chili peppers (optional)
4 cups water
Instructions

The first step is to blanch the pork belly, which removes any blood or impurities from the meat. To do this, add the pork belly and 3 slices of ginger to a pot with enough cold water to submerge the pork belly. With the lid on, bring it to a boil. Once the pot boils, turn down the heat and simmer for one more minute. Drain, rinse the pork belly clean, and set aside.
With the wok set over low heat, add the oil and rock sugar (or 3 tablespoons regular sugar). Slowly melt the sugar, taking care to not let it burn. Then add in the pork belly, 3 slices ginger, and the white parts of the scallions. Turn up the heat to medium. Stir and coat the pork belly with the melted sugar.
Now, add the Shaoxing wine, light soy sauce, dark soy sauce, cinnamon, star anise, bay leaves, dried chili pepper, and water. Stir and make sure everything is submerged. There will be some caramelized sugar on your spatula, dissolve it in the water before covering the wok. Bring the mixture up to a simmer over medium low heat for 1 hour. Check the pork periodically to make sure the sauce doesn't dry up.
Once the pork is to your liking in terms of tenderness, turn up the heat to cook off any excess sauce, stirring constantly. The sauce will reduce to a glistening coating on the pork belly. Last, add in the remaining ½ teaspoon sugar and the green parts of the scallions. Stir quickly and serve!
Prep. Time → 15 min
Cook Time → 90 min
August 02, 2018 14:16
Author judi
Share the recipe with your friends
No one has liked this recipe.
0 comments