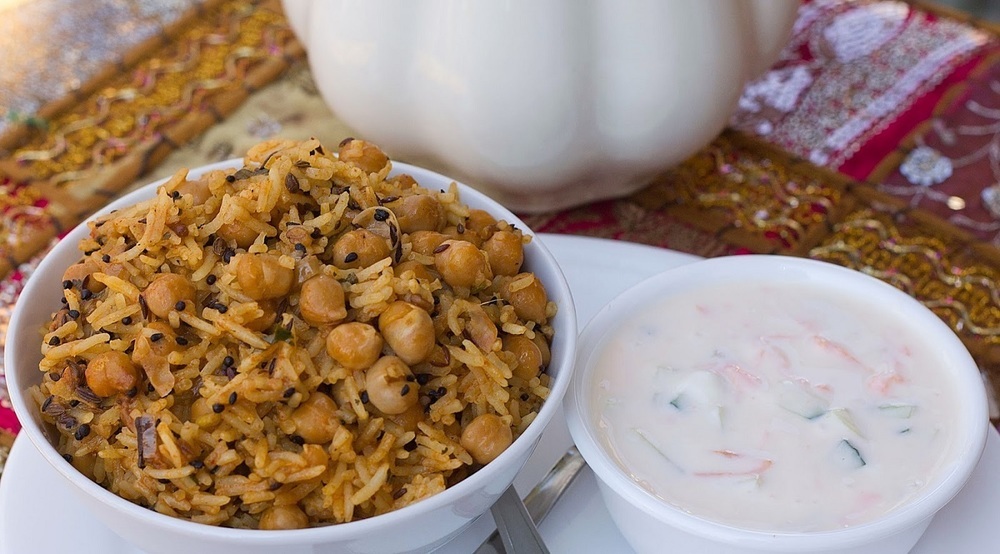 Ingredients
3 cups Chickpeas boiled kabuli chana
3 cups cooked rice
4 tablespoons ghee
1 teaspoon Cumin seeds
3-5 cloves garlic roughly chopped
3 green chillies chopped
1 inch Ginger chopped
2 medium Onions chopped chopped
3 medium tomatoes
1 teaspoon red chilli powder
1/2 teaspoon Turmeric powder
1 tablespoon coriander powder
1 teaspoon Garam masala powder
Salt to taste
2 tablespoons fresh coriander leaves chopped
1 tablespoon fresh mint leaves chopped
1 Lemon juice
Prep. Time → 10 min
Cook Time → 20 min
1. Heat 3 tbsps ghee in a non-stick pan and add cumin seeds. When their colour changes, add garlic and sauté till it turns golden.
Add green chillies and ginger and sauté on medium heat for 1 minute. Add onions and sauté till translucent. Add tomatoes and cook till soft and mushy.
Add red chilli powder, turmeric powder, coriander powder and garam masala powder and cook on medium heat for 1 minute.
Add chickpeas, salt and 2 cups cooking liquor and mix well. Add coriander leaves and mint leaves and cook for 5-7 minutes.
Add rice, remaining ghee and lemon juice and mix well. Cook for 4-5 minutes on medium heat.
Transfer into a serving platter and serve hot.
main courses, chana, main dish, recipe, veg, pulav April 04, 2018 10:10
Author https://hungryforever.com/recipe/...
Share the recipe with your friends
No one has liked this recipe.
0 comments