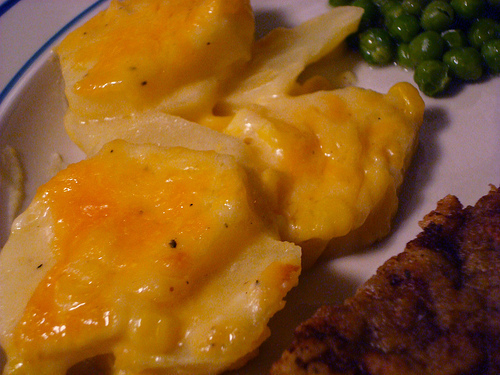 Ingredients
for 10 servings
1 cup chopped onion (1 large)
2 cloves garlic, minced
1/4 cup butter or margarine
1/4 cup all-purpose flour
1/2 teaspoon salt
1/4 teaspoon black pepper
2 1/2 cups milk
1 1/2 cups shredded cheddar, Gruyere, or Swiss cheese
8 cups thinly sliced red, white, long white, or yellow potatoes (about 2-1/2 pounds)
Prep. Time → 30 min
Cook Time → 85 min
1. For sauce, in a medium saucepan cook onion and garlic in hot butter until tender. Stir in flour, salt, and pepper. Add milk all at once. Cook and stir over medium heat until thickened and bubbly. Gradually add cheese to the thickened sauce, stirring until cheese melts.
2. Place half the sliced potatoes in a greased 3-quart rectangular dish. Top with half the sauce. Repeat layers.
3. Bake, covered, in a 350 degree F oven for 45 minutes. Uncover and bake for 40 to 50 minutes more or until potatoes are tender. Let stand, uncovered, for 10 minutes before serving.
side dishes, cheese, potatoes, vegetarian January 09, 2012 23:52
Author bhg.com/recipe/vegetables/...
Share the recipe with your friends
No one has liked this recipe.
0 comments