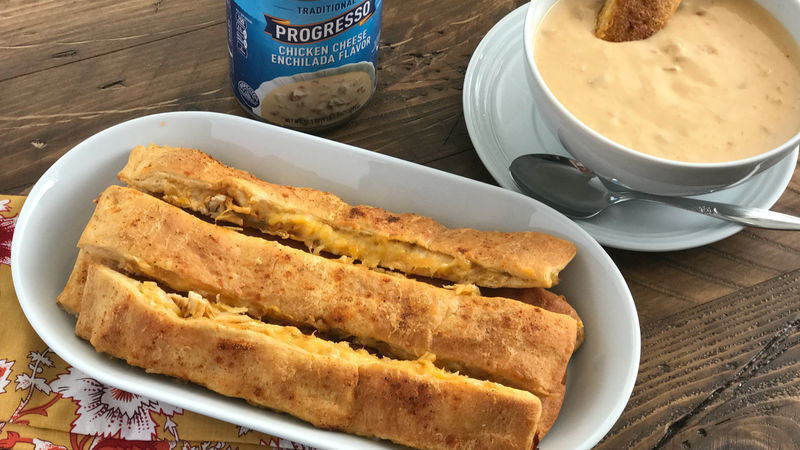 1 cup shredded cooked chicken breast
2 tablespoons canned Old El Paso™ Chopped Green Chiles
1-1/2 teaspoons Old El Paso taco seasoning mix (from 1-ounce package)
2cans (8 ounces each) Pillsbury refrigerated crescent dinner rolls
1-1/2 cups shredded Mexican cheese blend (6 ounces)
2 cans (18.5 ounces each) Progresso Soup Chicken Cheese Enchilada
Prep. Time → 10 min
Cook Time → 25 min
1. Gather ingredients and heat oven to 350°F. Line large cookie sheet with cooking parchment paper.
2. In medium bowl, mix chicken, chiles and 1 teaspoon of the taco seasoning mix.
3. Unroll 1 can dough. Press into rectangle filling most of the space on cookie sheet. Spread chicken mixture evenly on dough. Top evenly with cheese.
4. Unroll second can of dough. Place on top, pressing edges firmly to seal.
5. Sprinkle with remaining 1/2 teaspoon taco seasoning mix. Using pizza cutter, cut into 1-inch "breadstick" strips.
6. Bake 20 to 25 minutes or until cooked through. Remove from cookie sheet; cool 5 minutes before separating into breadsticks.
7. Cook soup as directed on cans. Serve soup with breadsticks.
appetizers, breadsticks, cheese, chicken, ethnic, mexican January 03, 2021 13:13
Author https://bettycrocker.com/recipes/...
Share the recipe with your friends
No one has liked this recipe.
0 comments