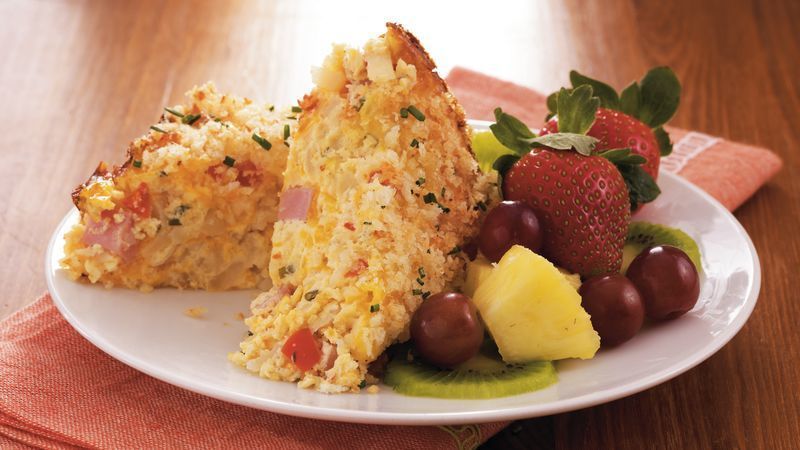 Ingredients
for 6 servings
5 eggs
3/4 cup of milk
1/2 cup chives-and-onion cream cheese spread (from 8-ounce container)
1/2 teaspoon ground mustard
1/4 teaspoon salt
1/8 teaspoon pepper
2 cups refrigerated southwest-style shredded hash brown potatoes (from 20-ounce bag)
1 cup Cheddar cheese, shredded (4 ounces)
1/4 cup red bell pepper, diced
2/3 cup cooked ham, diced
Topping
1/2 cup Progresso panko crispy bread crumbs
1/4 cup Parmesan cheese, shredded (1 ounce)
1 tablespoon butter, melted
Prep. Time → 70 min
Cook Time → 55 min
1. Grease 8- or 9-inch square baking dish with butter or cooking spray.
2. In a large bowl, beat eggs, milk and cream cheese until well blended. Stir in mustard, salt, pepper, potatoes, Cheddar cheese, bell pepper and ham. Pour mixture into baking dish. Cover; refrigerate 4 hours or overnight.
3. Heat oven to 350 degrees F. Uncover baking dish. Bake 40 minutes.
4. In a small bowl, combine topping ingredients. Sprinkle over casserole. Bake 10 to 15 minutes longer or until set and top is golden brown. Cur into 6 squares and cut each square in half diagonally.
main courses, breakfast, casserole, eggs, ham, potatoes July 11, 2017 13:32
Author https://bettycrocker.com/recipes/...
Share the recipe with your friends
No one has liked this recipe.
0 comments