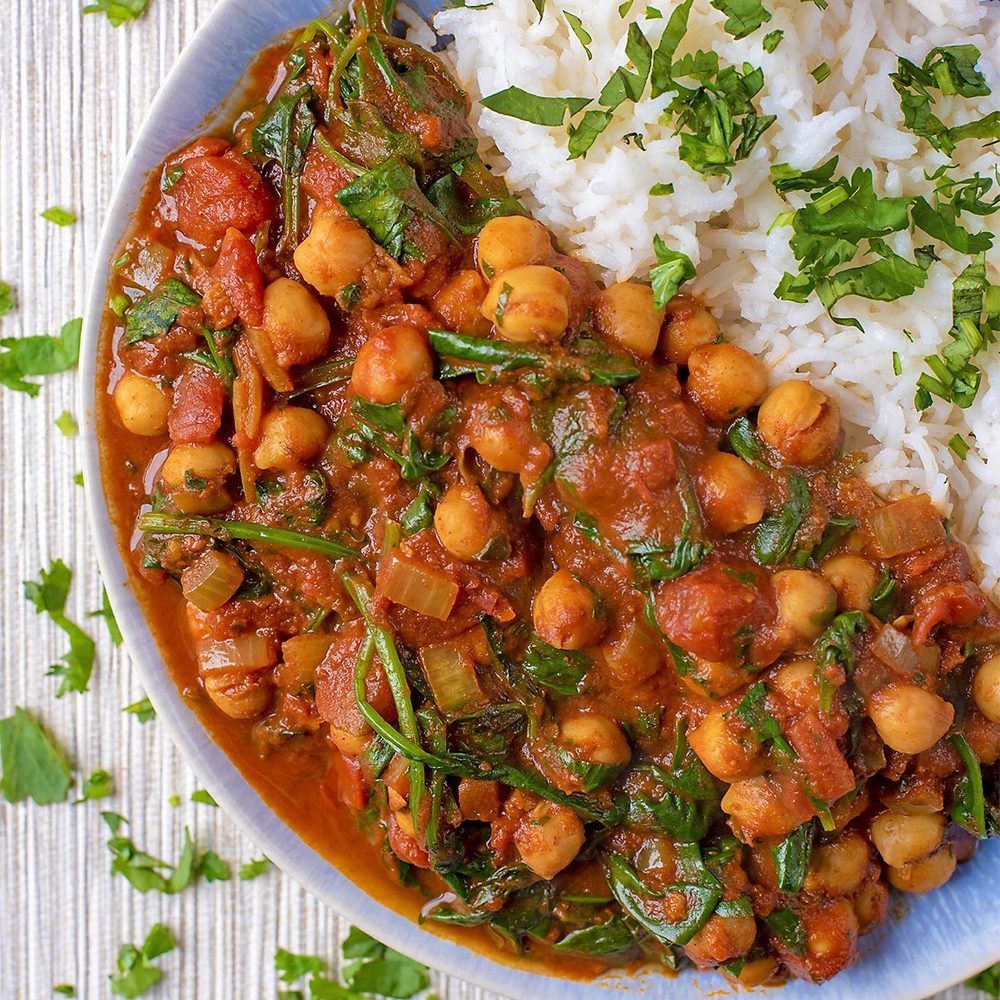 Spice base
1.5 tablespoons of Garam Masala
1 heaped teaspoon of turmeric powder
Curry
1 heaped teaspoon of panch phora seeds
2 tablespoons of olive oil
1 x red onion
1 x bunch of coriander
1 x 1 inch piece of fresh ginger
5 x cloves garlic
1 x birdseye chilli
1 x green capsicum (or substitute for other seasonal vegetables such as squash or eggplant)
1 x lemon
2 x teaspoons of brown sugar (use any other sugar if brown sugar not available)
1 x can pureed tomato
1 x can chick peas
1 x can coconut cream
Salt and pepper to taste
Optional: Rice, Kachumba, Roti
Prep. Time → 15 min
Cook Time → 25 min
1. Prepare ingredients as follows:
* Combine garlic, ginger and chilli in a mortar and pestle/food processor or simply finely dice and crush.
* Dice onion into appx half centimetre pieces
* Cut coriander stalks into small pieces
* Combine dry spices (Garam Marsala and turmeric) with warm water to form a runny paste (this is to prevent dry spices being burnt)
* Cut capsicum in to small strips (appx half an inch).
2. Method
- Set a pan to high heat and let the pan heat up before adding a generous amount of olive oil. Once oil has heated add the panch phora and stir fry until toasted and fragrant
- Reduce to medium heat and add the onions and corriander stems. Fry until translucent but not brown
- Add the ginger, garlic and chilli and fry for another 2 mins, ensure all ingredients well lubricted with oil
- Reduce the heat to low and add the spice mix, cook for appx one minute until all ingredients well combined and the spices open up and release a nice aroma.
- Add the chick peas and cover with the spice mix, stir fry for 2 mins ensuring chick peas are well coated.
- Add one can of pureed tomatoes and bring to slow simmer
- Add a squeeze of lemon, sugar and salt.
3. Test the flavour to balance sweetness, heat, acidity and saltiness - adjust as required. Keep in mind the dish will be sweeter and softened by the coconut milk added later on
4. - Simmer for approx 10 mins
- Slowly add the coconut cream in small amounts and stir through to prevent the coconut milk from seperating
- Once the coconut milk is added simmer for another 5 mins
- Add capsicum and simmer for another 5 mins
5. Rest for 5 mins before serving with basmati rice.
6. Optional accompaniments: Kachumba Salad, Roti
main courses, curry, indian, vegan, vegetarian, fijian June 01, 2021 12:06
Author David Alexander
Share the recipe with your friends
No one has liked this recipe.
0 comments