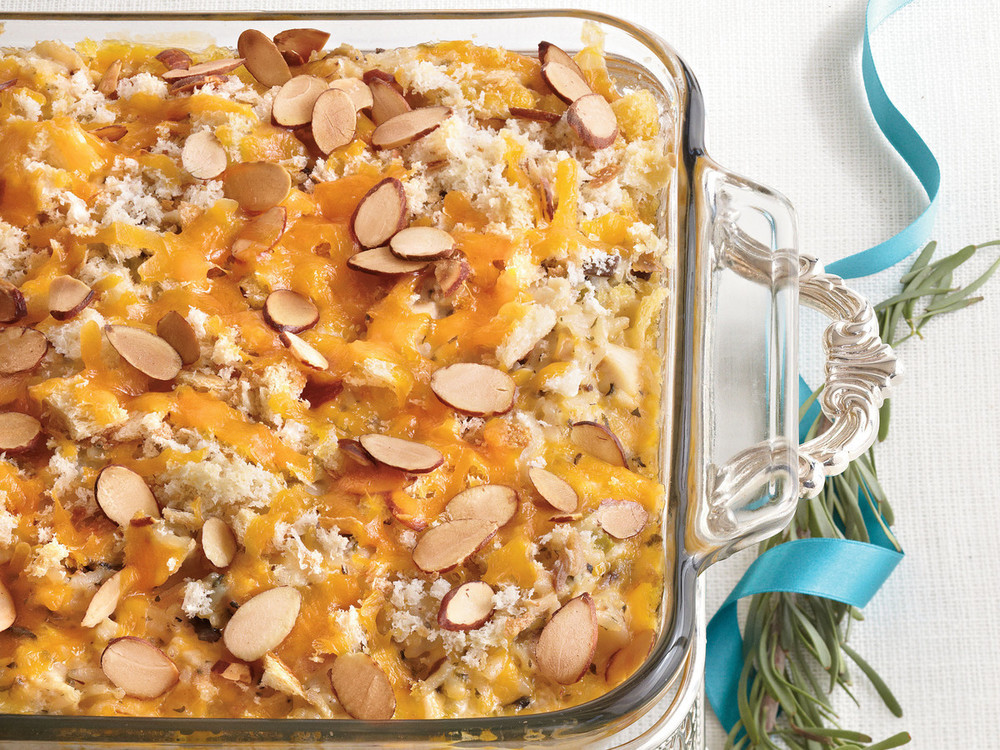 Ingredients
for 10 people
1 (2.25-ounce) package sliced almonds
2 (6.2-ounce) boxes fast-cooking long-grain and wild rice mix
1/4 cup butter
4 celery ribs, chopped
2 medium onions, chopped
5 cups chopped cooked chicken
2 (10-3/4-ounce) cans cream of mushroom soup
2 (8-ounce) cans chopped water chestnuts, drained
1 (8-ounce) container sour cream
1 cup milk
1/2 teaspoon salt
1/2 teaspoon pepper
4 cups (16 ounces) shredded Cheddar cheese, divided
2 cups soft, fresh breadcrumbs
Prep. Time → 30 min
Cook Time → 45 min
1. Preheat oven to 350°. Bake almonds in a single layer in a shallow pan 4 to 6 minutes or until toasted and fragrant, stirring halfway through.
2. Prepare rice mixes according to package directions.
3. Meanwhile, melt butter in a large skillet over medium heat; add celery and onions. Sauté 10 minutes or until tender. Stir in chicken, next 6 ingredients, rice, and 3 cups cheese. Spoon mixture into a lightly greased 15- x 10-inch baking dish or 2 (11- x 7-inch) baking dishes. Top with breadcrumbs.
4. Bake at 350° for 35 minutes. Sprinkle with remaining 1 cup cheese, and top with toasted almonds. Bake 5 minutes.
5. To Make Ahead: Prepare as directed in Steps 2 and Cover with aluminum foil, and freeze up to 1 month. Remove from freezer, and let stand at room temperature 1 hour. Toast almonds as directed in Step Bake casserole, covered, at 350° for 30 minutes. Uncover and bake 55 minutes to 1 hour and 15 minutes or until thoroughly heated. Sprinkle with 1 cup (4 oz.) shredded Cheddar cheese and toasted almonds. Bake 5 more minutes.
6. VARIATIONS:
Shrimp-and-Wild Rice Casserole: Substitute 2 lb. peeled and deveined, medium-size raw shrimp (4 1/50 count) for chicken; 2 cups (8 oz.) shredded Monterey Jack cheese and 2 cups grated Parmesan cheese for Cheddar cheese; and 1 cup dry white wine for milk.
7. Cajun Chicken-and-Wild Rice Casserole: Omit salt and pepper. Reduce chicken to 2 1/2 cups. Prepare as directed, sautéing 1 lb. andouille sausage, chopped, and 1 green bell pepper, diced, with celery in Step Stir 1 (15-oz.) can black-eyed peas, drained, and 1 tsp. Cajun seasoning into rice mixture. Proceed as directed.
main courses, casserole, chicken, rice April 11, 2019 13:54
Author https://southernliving.com/syndic...
Share the recipe with your friends
No one has liked this recipe.
0 comments