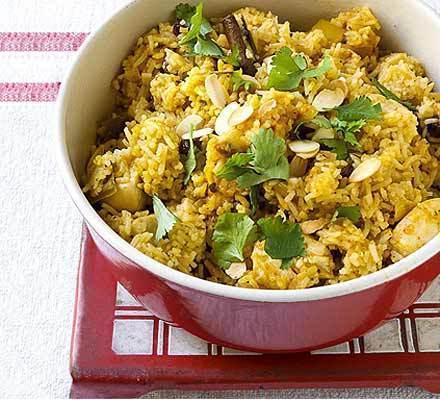 300g basmati rice
25g butter
1 large onion , finely sliced
1 bay leaf
3 cardamom pods
small cinnamon stick
1 tsp turmeric
4 skinless chicken breasts , cut into large chunks
4 tbsp curry paste (we used Patak's balti paste))
85g raisins
850ml chicken stock
chopped coriander and toasted flaked almonds to serve
Prep. Time → 10 min
Cook Time → 30 min
1. Soak the rice in warm water, then wash in cold until the water runs clear. Heat butter in a saucepan and cook the onions with the bay leaf and other whole spices for 10 mins. Sprinkle in the turmeric, then add chicken and curry paste and cook until aromatic.
2. Stir the rice into the pan with the raisins, then pour over the stock. Place a tight-fitting lid on the pan and bring to a hard boil, then lower the heat to a minimum and cook the rice for another 5 mins. Turn off the heat and leave for 10 mins. Stir well, mixing through half the coriander. To serve, scatter over the rest of the coriander and the almonds.
main courses, chicken, chicken biryani, chicken recipe, biryani October 15, 2012 03:04
Author personalrecipe.com/lunch/chick...
Share the recipe with your friends
No one has liked this recipe.
0 comments