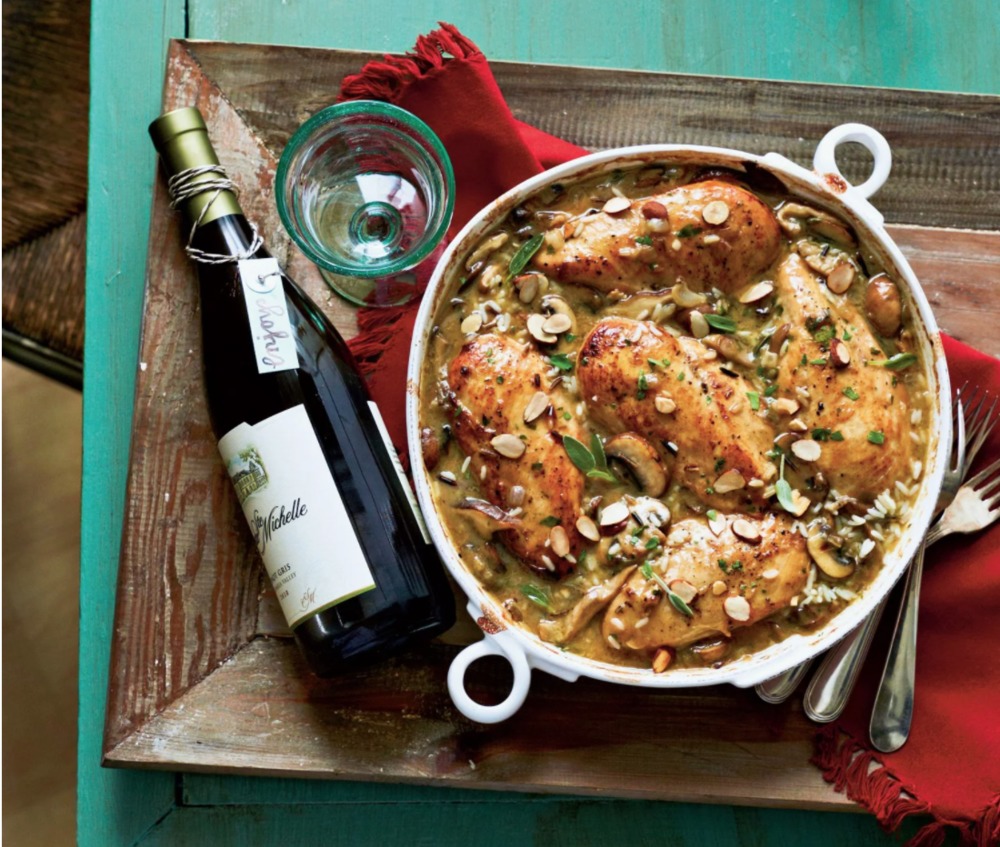 Ingredients
for 6 servings
1/2 cup butter, divided
6 skinned and boned chicken breasts
3 shallots, chopped
2 garlic cloves, minced
1 pound assorted fresh mushrooms, coarsely chopped
1/4 cup sherry
3 tablespoons all-purpose flour
2 (14-ounce) cans chicken broth
1 (6-ounce) package long-grain and wild rice mix
1/2 cup grated Parmesan cheese
2 tablespoons chopped fresh flat-leaf parsley
1 tablespoon chopped fresh sage
1/2 teaspoon salt
1/2 teaspoon pepper
1/2 cup sliced toasted almonds
Garnish: fresh sage leaves
Prep. Time → 20 min
Cook Time → 60 min
1. Preheat oven to 375°. Melt 1 Tbsp. butter in a large skillet over medium-high heat; add half of chicken, and cook 3 minutes or until browned; turn and cook 1 minute. Transfer to a plate. (Chicken will not be cooked completely.) Repeat procedure with 1 Tbsp. butter and remaining chicken. Wipe skillet clean.
2. Melt 2 Tbsp. butter in skillet over medium-high heat. Add shallots, and sauté 3 minutes or until translucent. Add garlic, and sauté 30 seconds. Add mushrooms; cook, stirring often, 4 to 5 minutes or until tender. Stir in sherry, and cook, stirring often, 1 minute.
3. Melt remaining 1/4 cup butter in a 3-qt. saucepan over medium-high heat. Whisk in flour; cook, whisking constantly, 1 minute. Gradually whisk in broth. Bring to a boil, whisking constantly, and cook, whisking constantly, 1 to 2 minutes or until slightly thickened. Remove from heat, and add rice (reserve flavor packet for another use), next 5 ingredients, and shallot mixture. Spoon into a lightly greased 13- x 9-inch baking dish or disposable foil pan. Top with chicken.
4. Bake at 375° for 30 to 35 minutes or until a meat thermometer inserted in thickest portion of chicken registers 165°. Remove from oven, and let stand 10 minutes. Sprinkle with almonds.
main courses, casserole, chicken, mushrooms, rice October 10, 2021 12:39
Author https://southernliving.com/recipe...
Share the recipe with your friends
No one has liked this recipe.
0 comments