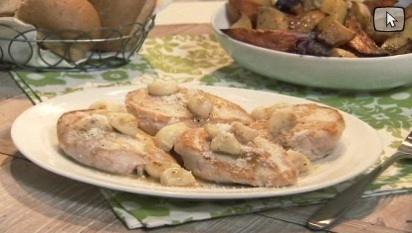 Ingredients
for 4 servings
4 small boneless skinless chicken breast halves (1 lb.)
20 cloves garlic, peeled
3/4 cup fat-free reduced-sodium chicken broth
1/4 cup KRAFT Light Classic Caesar Dressing
1/4 cup KRAFT Grated Parmesan Cheese
Prep. Time → 5 min
Cook Time → 20 min
1. HEAT large nonstick skillet on medium-high heat. Add chicken and garlic; cook 4 min., turning chicken after 2 min.
2. STIR in broth and dressing; cover skillet with lid. Cook chicken 3 to 5 min. on each side or until done (165ºF).
3. SPRINKLE with Parmesan; cover. Remove from heat. Let stand 1 min.
main courses, chicken, garlic, dinner June 17, 2011 14:41
Author kraftrecipes.com/