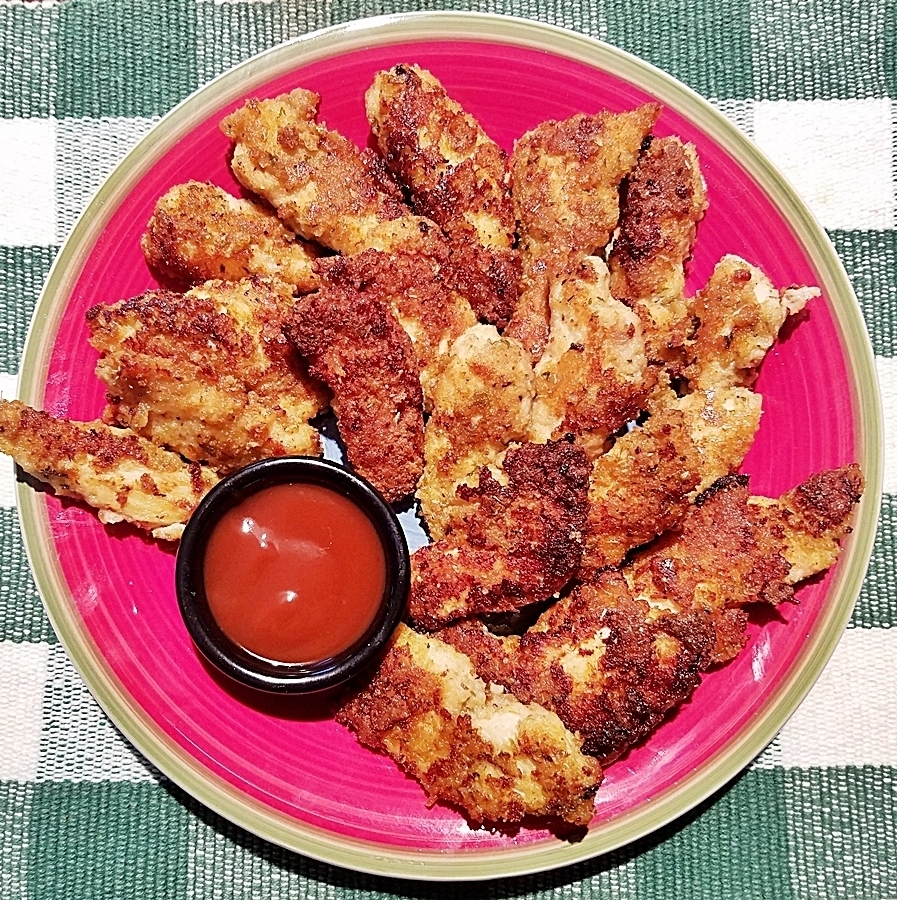 Ingredients
for 4 Servings
3 Pounds Boneless Chicken Breasts
2 Eggs
3 Tablespoons Water
3/4 Cup Plain Bread Crumbs
1/4 Cup Flour
1 Tsp. Garlic Powder
1/2 Tsp. Red Pepper
1/2 Tsp. Cumin
2 Tsp. Chili Powder
2 Tablespoons Dried Oregano
2 Tablespoons Dried Parsley
1/2 Cup Olive Oil
Prep. Time → 15 min
Cook Time → 35 min
1. Heat oven to 400 degrees.  Coat bottom of large pan with olive oil.
2. Trim fat from chicken breasts and cut into 1/2″ slices.
3. Mix together bread crumbs, flour, garlic powder, red pepper, cumin, chili powder, oregano, and parsley.
4. Whisk eggs with water.
5. Coat chicken pieces with egg wash and bread crumb mixture.
6. Place in oiled pan and bake in preheated oven for 20 minutes.  Remove from oven and turn chicken.  Return to oven and bake for an additional 15 to 20 minutes or until chicken is nicely browned.
7. Place chicken fingers on paper towels to absorb excess oil. Serve with mild barbecue or dipping sauce.
main courses, cleanfreshcuisine, delicious, easy, familymeal, chickenrecipes, chickenfingers May 09, 2017 01:10
Share the recipe with your friends
No one has liked this recipe.
0 comments