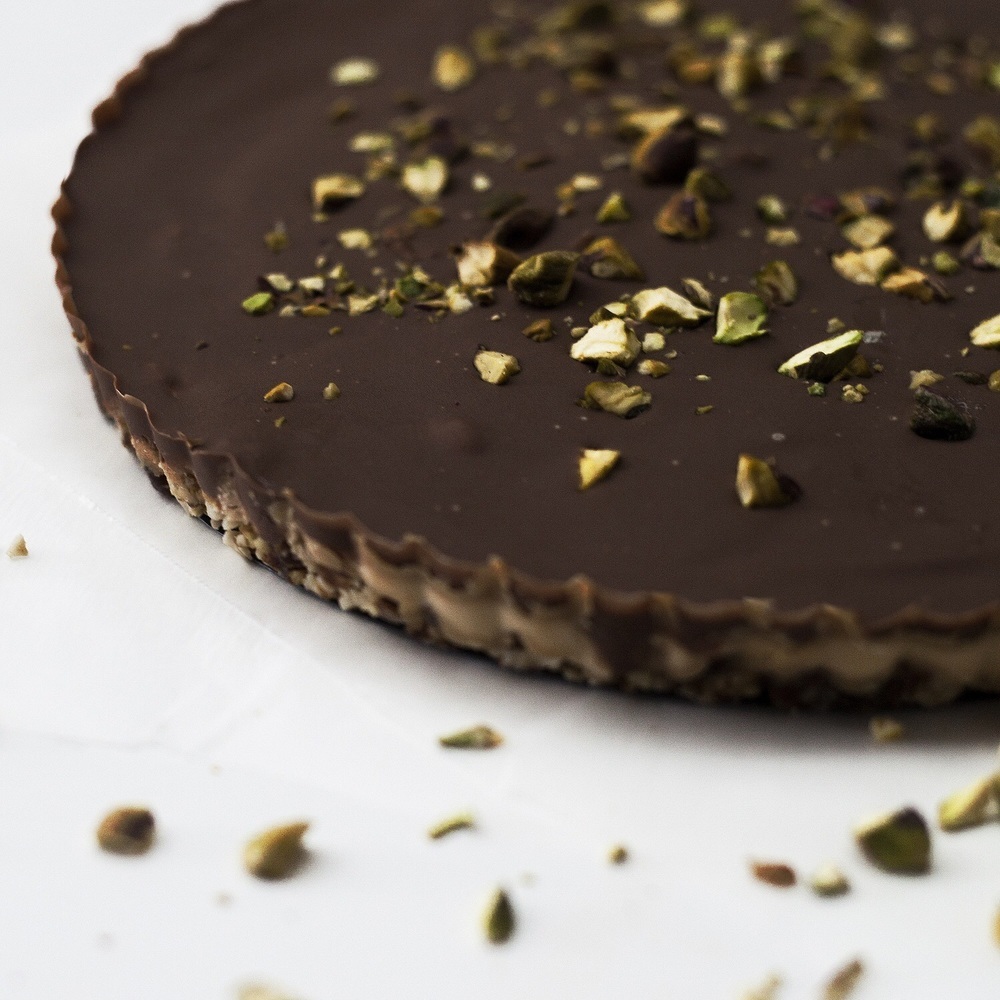 Ingredients
Base Ingredients
2 cups cashews
1.5 cups pitted dates
2 tbsp rice malt syrup
Filling Ingredients
10 scoops of Gentec Casein Custard
Water
Topping Ingredients
330g dark chocolate (80% if you can get it) - this is roughly a block and a half
30g pistachios
Other
Coconut oil (for greasing baking pan)
Directions
1. Preheat oven to 175C
Combine all base ingredients (except rice malt syrup) in a food processor until the cashews have broken down into small crumbs
Remove ingredients from the food processor and place into a bowl
Add the rice malt syrup and stir it through until the ingredients are combined
Take an 8" baking pan, if you have one, and using a piece of paper towel lightly grease the tray with coconut oil
Spoon the base ingredients into the pan and press down firmly until the whole base is covered
Place the pan into the oven for 20 minutes
Remove the pan from the oven and while it is cooling start to mix up your protein custard. To do this take the 10 scoops (there is a scoop in the container) and place them into a bowl, slowly begin to add water to the protein powder and continuously stir it. You want it to be a very thick consistency (if you've seen whipped peanut butter before it should start to look like that).
Once the protein custard has reached your desired consistency pour it over the top of the base layer (still in the tray) and then place it into your freezer for an hour.
While the pan is in the freezer melt your dark chocolate and cut up 30g of pistachios
After the hour of setting in the freezer is complete take the pan out and pour a thin layer of melted dark chocolate over the top
Sprinkle pistachios over the top of the melted chocolate
Place it back in the freezer overnight before serving
Store in the fridge or freezer.
April 19, 2015 04:27
Author eatrunlift.me/eat-run-lift/201...
Share the recipe with your friends
No one has liked this recipe.
0 comments