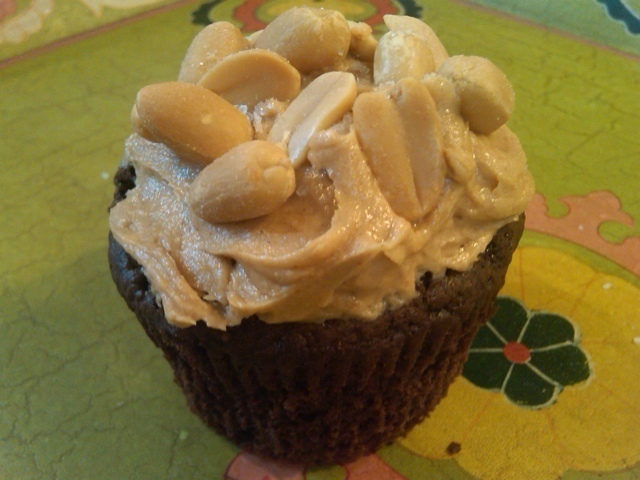 Ingredients
INGREDIENTS FOR CUPCAKES

1 1/2 sticks unsalted butter
2/3 cup light brown sugar
2/3 cup white sugar
2 extra large eggs
2 tsp vanilla
1 cup buttermilk
1/2 cup sour cream, at room temperature
2 TBS brewed coffee
1 3/4 flour
1 cup cocoa powder
1 1/2 tsp baking soda
1/2 tsp salt
INGREDIENTS FOR FROSTING

1 cup confectioners' sugar
1 cup creamy peanut butter
5 TBS unsalted butter
3/4 tsp vanilla
1/4 tsp salt
1/3 cup heavy cream
1. DIRECTIONS FOR CUPCAKES
2. Preheat oven to 350 degrees. Line cupcake pans with paper liners.
3. Mix together the butter and sugars on high until light and fluffy, about 5 minutes. Lower the speed to medium, add eggs one at a time, then add the vanilla and mix well. In a separate bowl whisk together the buttermilk, sour cream, and coffee. In another bowl (last bowl!) sift together the flour, cocoa, baking soda, and salt. On low speed add 1/3 of the buttermilk mixture, then 1/3 of the flour mixture. Repeat two more times. Mix only until blended and then stir by hand with a rubber spatula to make sure it is properly blended.
4. Divide the batter among the cupcake pans using one standard ice cream scoop. Bake for 20 - 22 minutes, until a toothpick comes out clean. Cool completely before frosting.
5. DIRECTIONS FOR FROSTING
6. Mix all ingredients together aside from the cream on medium low speed. Once everything is blended add in the cream and beat on high until the mixture is light and smooth - about 5 minutes.
7. Frost cooled cupcakes and top with whatever you prefer!
desserts, cupcakes February 25, 2016 01:11
Author a-life-from-scratch.com/
Share the recipe with your friends
No one has liked this recipe.
0 comments