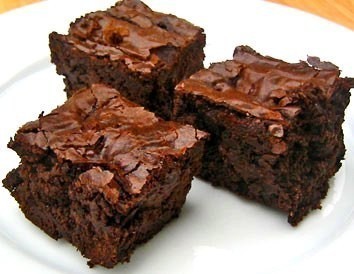 Ingredients
for 24 pieces
170g butter
200g dark chocolate (70% cocoa solids)
3 eggs
1 tablespoon vanilla extract
250g soft brown sugar
110g plain flour
1/2 teaspoon salt
100g chopped fudge
1. Preheat the oven to 180C / gas mark 4.
Grease and line 20cm square tin.
2. Slowly melt the butter and chocolate together in a large heavy based pan. Leave to cool.
3. Beat the eggs with the sugar and vanilla.
4. Once the chocolate mixture has cooled enough, add in the egg and sugar mixture. Stir in the flour and salt. Finally, add the fudge pieces and pour into lined tin.
5. Bake for about 25 minutes until top of brownies are a light brown colour but an inserted skewer still comes out with mixture attached - the brownies will continue to cook after being removed from the oven.
7. For extra gooeyness, refridgerate once cool.
desserts July 06, 2012 15:27