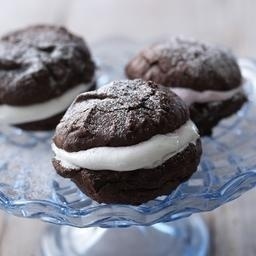 Ingredients
for 12 portions
125g (4½ oz) - Butter
150g (5½ oz) - Chocolate, minimum 70% cocoa solids, plus extra for melting (optional)
225g (8 oz) Caster Sugar
3x - Egg(s)
1 Teaspoon - Vanilla Extract
250g (8¾ oz) - Flour
30g (1¼ oz) - Cocoa Powder
½ Teaspoon - Baking Powder
18x - Marshmallows
To serve
Cocoa powder
Icing sugar
Prep. Time → 25 min
Cook Time → 10-30 min
1. Preheat the oven to 180C/350G/Gas 3. Line a baking tray with grease proof paper.
2. Melt the butter and chocolate in a bowl set over a pan of simmering water. (Do not let the base of the bowl touch the water.)
3. Whisk the sugar, eggs and vanilla together in a separate bowl then fold in the chocolate mixture.
4. Sift the flour, cocoa and baking powder together, then fold into the chocolate and egg mixture.
5. Place tablespoonfuls of the mixture onto the baking tray (the mixture should make 36 biscuits) and bake in the oven for 6-8 minutes.
6. Remove from the oven and set aside half of the biscuits on a cooling rack. Turn the remaining biscuits over and place a marshmallow on top of each. Return to the oven for 2-3 minutes, or until the marshmallows have softened.
7. Remove from the oven and set aside on a cooling rack to cool slightly. Press the cooled biscuits on top.
8. Optional: Melt 100g/3½oz extra chocolate and pour this over the cookies, then set aside to cool.
October 03, 2012 18:30
Share the recipe with your friends
No one has liked this recipe.
0 comments