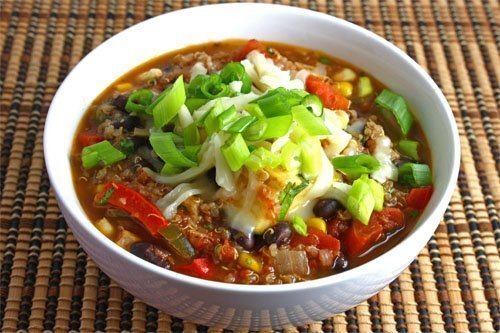 Ingredients
for A lot of hungry people
1 cup quinoa (rinsed)
2 cups water
1 tablespoon oil
1 onion (chopped)
4 cloves garlic (chopped)
1 jalapeno pepper (chopped)
1 tablespoon chili powder
1 tablespoon cumin (toasted and ground)
1 28 ounce can crushed tomatoes
2 19 ounce cans black beans (drained and rinsed)
1 green bell pepper (cut into bit sized pieces)
1 red bell pepper (cut into bit sized pieces)
1 zucchini (cut into bit sized pieces, optional)
1 tablespoon chipotle chili in adobo sauce (chopped)
1 teaspoon dried oregano
salt and pepper to taste
1 cup corn (fresh, frozen or canned)
1 handful cilantro (chopped)
1. NOTE: The original recipe calls for chipotle chili in adobo. I am just not that big of a fan, plus then you have a whole can and they always go bad before I can figure out what else to do with it. So I don't use adobo and everything else turns out lovely nonetheless. I've sometimes made this with both green and yellow squash, so twice the squash amount, and it still turned out great. I've also used frozen cilantro "cubes" from Trader Joe's when I don't have fresh cilantro (or don't want to buy the huge bunch only to have half of it go bad because I don't use it in the recipe). Also note, this is vegan as it is but sublime happiness occurs if you top with either/both sour cream and shredded cheese.
2. Simmer the quinoa in the water until absorbed, about 20 minutes. While that's happening, chop all those vegetables!
3. Heat the oil in a pan.
4. Add the onions and saute until tender, about 3-5 minutes.
5. Add the garlic, chili powder and cumin and saute until fragrant, about 1 minutes.
6. Add the tomatoes, beans, peppers, zucchini, chipotle (if using), oregano, salt and pepper and simmer for 20 minutes.
7. Add the quinoa and corn and simmer for 5 minutes.
8. Remove from the heat and stir in the cilantro.
9. If you're not vegan, top with sour cream and cheese!
main courses, vegan, vegetarian, chili, quinoa October 18, 2011 21:13