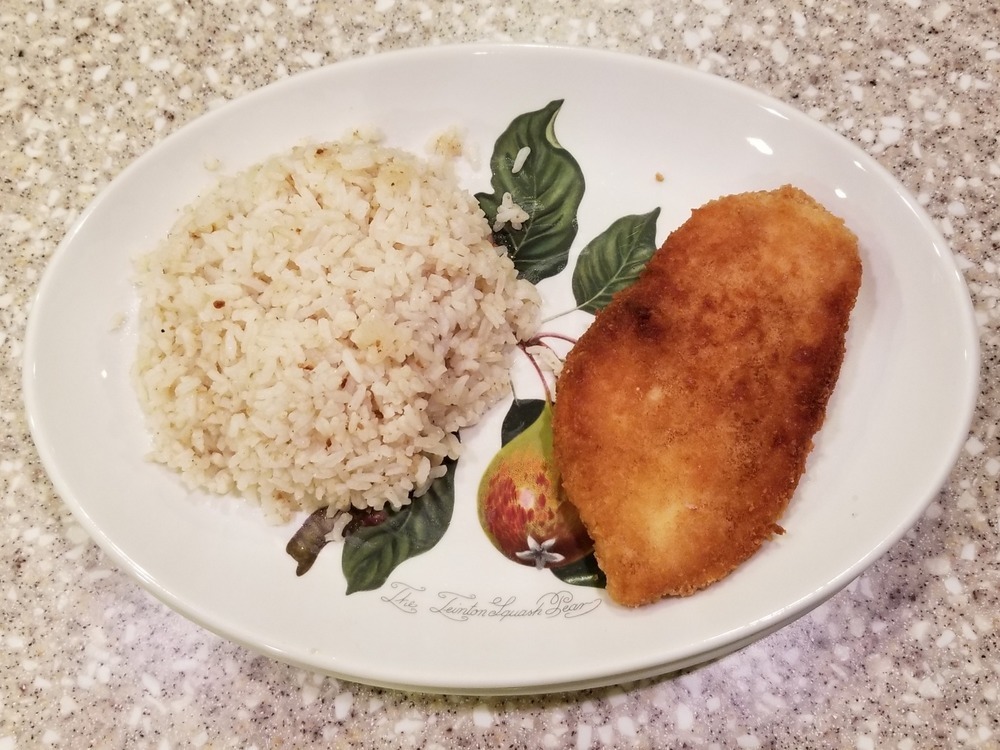 Ingredients
6 boneless, skinless chicken breast halves
2 eggs
2 T water or milk
½ t onion powder
1 1/2 C Club crackers, finely crushed
Frying oil (peanut, canola or vegetable)
3 T butter
3 C rice, cooked (preferably day-old)
Prep. Time → 30 min
Cook Time → 30 min
1. Rinse 1 1/2 C dry rice in a strainer to wash away excess starch and drain. In a pot melt 1 T butter over medium-low heat, then add about 3 C water and dry rice. Turn heat up to high and bring to a boil while stirring occasionally. Cover and reduce heat to low. Allow rice to simmer covered for about 14 minutes or until done. Set aside and allow rice to cool. Transfer to a food storage bowl and refrigerate overnight.
2. Pulverize Club Crackers into fine crumbs in a food processor. Add some of the crumbs to a shallow bowl and store the rest in a sealed container for future meals (you can substitute them for bread crumbs in meatloaf or other recipes).
3. In a large bowl add the eggs, water and onion powder and beat with a fork until blended.
Clean, trim and dry the chicken with paper towels. Add chicken to the egg mixture.
4. Line a dinner plate with a sheet of wax paper. With a fork, remove a piece of chicken from the egg mixture and lay it on the cracker crumbs. With a spoon, coat the chicken with crumbs on both sides, flipping once. Carefully remove chicken from the cracker crumbs and place the wax paper-lined dish. Repeat with the remaining pieces of chicken. If you run out of space on the plate, cover the chicken on the plate with a sheet of wax paper and stack the remaining chicken on top. At this point the chicken can be refrigerated for up to 24 hours if you intend to cook it later.
5. Place a wire rack inside a rimmed baking sheet or line a large oven-safe platter with paper towels. Place it on the top oven rack. Place oven-safe serving plates in the oven as well if desired. Preheat to warm (170°F).
6. Preheat an electric skillet to 350°F. Melt 2 T butter in the skillet and then add enough oil to cover the bottom of the skillet. Wait for oil to reach 350°F then carefully add 3 pieces of chicken. Cook for 4 minutes on one side, flip, and cook an additional 4 minutes. Remove baking sheet with wire rack or paper towel-lined platter from oven 1 minute before second side is cooked. Remove chicken from oil and place on the wire rack. Return wire rack or platter to the oven and repeat the process with the remaining chicken, adding additional oil and/or butter if needed.
7. Reduce skillet temperature to 325°F and carefully remove excess oil with wadded paper towels and tongs. Leave 2-4 T depending on preference. Season cooked rice with salt and pepper to taste. Add the rice to the skillet and fry the rice while stirring frequently for about 7 minutes. Reduce heat in skillet to warm or turn skillet off completely.
8. Carefully remove serving plates and chicken from the warm oven and turn off the oven. Serve chicken next to the rice on the hot serving plates.
main courses, chicken, poultry, rice November 06, 2018 17:20
Author Bernadette Funfar
Share the recipe with your friends
No one has liked this recipe.
0 comments