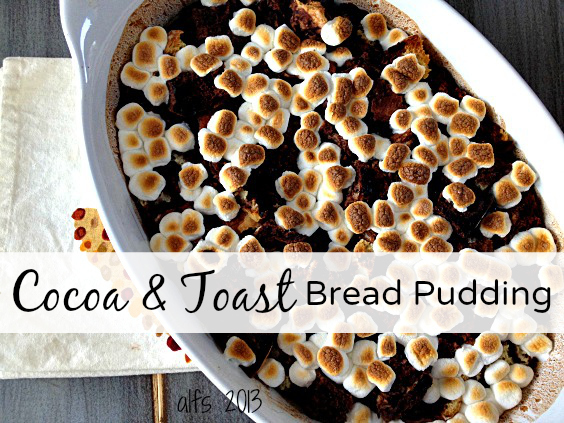 Ingredients
16-ounce loaf country bread
3 1/2 cups whole milk
3/4 cup unsweetened cocoa powder, plus more to taste
2/3 cup sugar, plus more to taste
1 teaspoon vanilla
1/8 teaspoon salt
4 large eggs
1 mounded cup mini marshmallows
Directions
1. Slice the loaf of bread into 1-inch cubes, about 11 cups total. (Trim the crust off if desired — pieces of crust make chewy bits in the pudding, which I love but you might not!)
2. Toast the bread cubes in a 350°F oven, tossing occasionally, until they are dry, 30 to 40 minutes.
3. Time to prepare the cocoa custard filling. Warm the milk in a saucepan over medium heat or in 30 second bursts in the microwave until warm to the touch but not steaming hot.
4. Remove the milk from heat and whisk in the cocoa, sugar, vanilla, and salt.
5. Taste and add more cocoa powder or sugar to taste.
6. Cool to room temperature, then whisk in the eggs.
7. Fill a 2-quart (9x9-inch or deep 8x8-inch) baking dish with the bread cubes.
8. Pack them in as tightly as possible — you may have some bread left over (this can be saved for breadcrumbs).
9. Pour the cocoa custard filling evenly over the top of the bread. The filling should come almost to the top of the dish with some peaks of bread cubes left exposed.
10. Cover the pudding and refrigerate for at least an hour or overnight.
11. When ready to bake, preheat the oven to 325°F.
12. Put the bread pudding on the counter to take the chill off as the oven heats.
13. Remove the covering from the pudding and place it in the heated oven.
14. Bake until the tips of the bread cubes are crisp and dry and a cake tester (i.e. tooth pick) inserted into the middle of the pudding emerges with only a little chocolate, 45 to 55 minutes.
15. Scatter the marshmallows over the top of the pudding.
16. Turn on the broiler and place the pudding about 6 inches below the broiler element.
17. Watch the pudding very closely. When the marshmallows puff up and start to toast, remove the pudding from the oven.
18. Let the pudding cool for at least 10 minutes before serving.
19. Leftovers will keep for up to a week and can be eaten cold or reheated.
desserts February 24, 2016 21:42
Author a-life-from-scratch.com/
Share the recipe with your friends
No one has liked this recipe.
0 comments