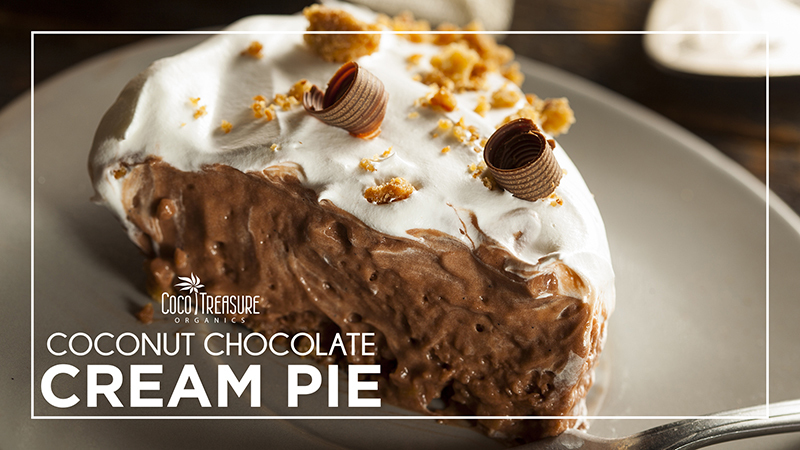 Ingredients
for 8 to 12 slices
For the Crust
9" Gluten-Free Coconut Flour Pie Crust
For the Filling
1 cup unsweetened coconut flakes
2 ¼ cup heavy cream
20 oz. bittersweet chocolates chopped
For the Topping
1 teaspoon pure vanilla extract
1 cup sweetened coconut flakes toasted
1 ½ cup heavy whipped cream
1 can 14.5 oz unsweetened full-fat coconut milk, chilled for 4 to 6 hours
3 tablespoons powdered sugar
Prep. Time → 2 min
Cook Time → 45 min
1. To prepare the filling, pour the heavy cream into a medium saucepan. Once it becomes warm to touch, gradually add the coconut flakes. Cover and let it simmer for 2 minutes. Leave the mixture as is for 30 minutes.
2. Preheat the oven to 350 degrees Fahrenheit.
3. Prepare the pie crust by lining it with parchment paper. And then, fill it with rice or beans. Bake in the oven for 20 minutes. After which, remove from the oven and take the weights you added.
4. Cook the pie crust for another 10 minutes until golden brown. Remove from the oven and set aside.
5. Heat the filling again just enough to melt the chocolates.
6. Put the chocolates in a large mixing bowl. Cover with a mesh on top. Pour the cream mixture into the bowl to strain. Let the mixture sit for 5 minutes before whisking. Continue whisking until thick.
7. Pour the filling onto the pie crust. Spread evenly. Chill for 2 hours before serving.
8. For the topping, pour the thick, chilled, unsweetened full-fat coconut milk in a mixing bowl. Be sure not to add the liquid part. Pulse using a mixer for five minutes.
9. Next, add the heavy whipped cream, vanilla extract, and powdered sugar. Continue pulsing until you notice stiff peaks are forming.
10. Spread over the pie and top with the toasted coconut flakes.
desserts, coconut cream pie, dessert, coconut chocolate cream pie, coco treasure organics, food, recipes February 26, 2018 00:29
Author https://cocotreasure.com/recipes/coco...
Share the recipe with your friends
No one has liked this recipe.
0 comments