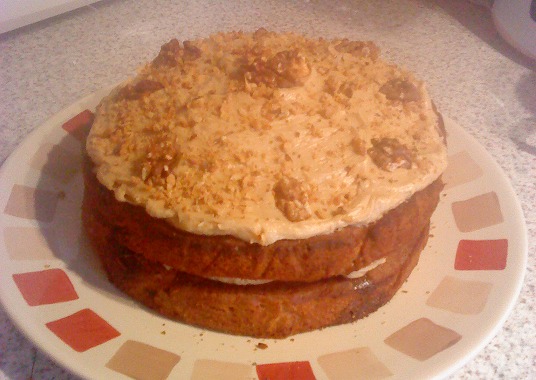 Ingredients
For the sponge

1.5 tablespoon strong instant coffee mixed with 3 tablespoons boiling water
60g walnuts (halves or pieces)
175g self raising flour
175g golden caster sugar
175g unsalted butter (best if at room temperature if not soften in microwave)
1.5 teaspoon baking powder
3 eggs (best if at room temperature)
For the syrup

2 tablespoons strong instant coffee
50g brown sugar (preferably demerara)
100ml boiling water
For the butter cream topping

125g unsalted butter (best if at room temperature if not soften in microwave)
200g icing sugar
2 tablespoons instant coffee mixed with 50ml boiling water
10 walnut halves or pieces for decoration
Prep. Time → 40 min
Cook Time → 25 min
1. Preheat the oven to 160C/320F
2. Place the walnuts on a baking tray and toast for around 5min. When ready chop them finely.
3. In a bowl mix eggs, caster sugar, self raising flour, baking powder and butter using a hand blender until the mixture is smooth. Then add chopped walnuts and coffee mixture and stir.
4. Pour the mixture into two round sandwich tins which have been lined with baking paper and greased with some butter. Bake for around 25min at 160C/320F or until you see that the cake is well separated from the paper lined walls of the tin and have golden brown colour.
5. When the sponge is ready, take it out of the oven and out of the tins and leave it on a wire rack to cool.
6. Prepare the syrup (you can do this when the sponges are in the oven) by mixing coffee water and brown sugar in a small bowl or a mug. Use the syrup to brush the resting sponges on the wire rack. The sponge will soak up the syrup and make the cake moist and tasty.
7. Now beat the butter and icing sugar together in a mixing bowl until smooth with a pale yellowish colour. It usually takes at least 5 minutes of very efficient beating and stirring. I use a firm spatula to do this.
8. When the mixture is ready add the coffee and water mix. Best not to pour it all at once as sometimes it might make the topping too liquid. Add a little at a time and stir. If you think that the mixture is too runny leave it to stand for a bit.
9. Spread the butter cream topping on the first sponge then place second sponge on top and spread the rest of the butter cream (make sure that sponges are cold before doing this). Decorate with walnut halves and pieces.
desserts, cake, coffee, dessert, sweet, walnut November 13, 2011 21:52
Author Sponge and syrup inspired by Delia's recipe for Austrian Coffee and Walnut Cake