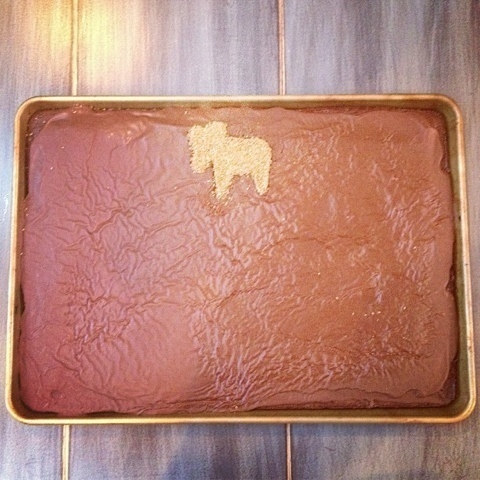 Ingredients
INGREDIENTS FOR CAKE

2 cups sugar
2 cups flour
1 cup margarine
1/4 cup cocoa
1 cup water
1/2 cup sour cream
2 eggs
1 tsp baking soda
1 tsp vanilla
INGREDIENTS FOR FROSTING

1/4 cup cocoa
1/2 cup margarine
6 TBS milk
1 lbs powdered sugar
1 tsp vanilla
1 cup chopped nuts, optional
2. Preheat oven to 400 degrees.
3. Sift flour and sugar together. Melt margarine, cocoa, and water over the stove. Bring to a boil. Pour over sugar and flour, mixing well. Add in your remaining ingredients and pour into a greased jellyroll pan. Bake for 20 minutes.
4. DIRECTIONS FOR FROSTING
5. Combine cocoa, margarine and milk in a pan over the stove. Melt and bring to a boil. Remove from the heat and add remanding ingredients, beating well.
6. Pour over the cake and smooth out with a knife.
desserts, cake February 25, 2016 01:32
Author a-life-from-scratch.com/
Share the recipe with your friends
No one has liked this recipe.
0 comments