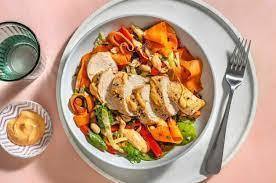 olive oil
2 boneless skinless chicken breasts
1 lime
cilantro
28 g chopped peanuts
1 red, orange or yellow bell pepper
1 large carrot
1 tbsp seasoned rice vinegar
1 cup shredded green cabbage (I use coleslaw)
1 1/2 tsp soy sauce
1/4 tsp chili flakes
1/2 tsp sugar
baby field greens
ginger sesame spice blend (or whatever you want to season your chicken with)
55 g mayonnaise
1/2 tsp sriracha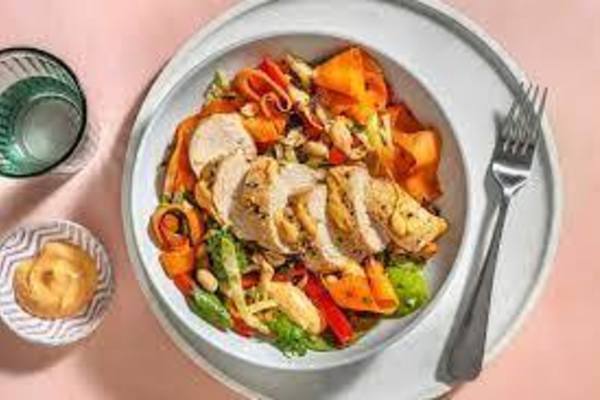 1. Roughly chop cilantro. Cut pepper into 1/4 inch slices. Peel carrot then run peeler down the length of the carrot into ribbons.
2. Heat a cast iron pan over med heat. When hot add peanuts to the dry pan. Toast, stirring often, until golden-brown, 4-5 mins. Watch them so as not to over cook. Transfer peanuts to a dish.
3. Pat chicken dry and season as you wish. In the same pan heat 1 tbsp oil over med heat. When pan is hot add chicken and cook for 6-8 mins until browned. Flip then cover and continue cooking for 6-8 mins, until cooked through.
4. Meanwhile zest, then juice the lime. To a large bowl add soy sauce, vinegar, cilantro, lime zest, 1/2 tsp sugar, 1 tbsp lime juice, 2 tbsp olive oil, and 1/4 tsp chili flakes. Season with salt and pepper and whisk to combine.
5. To a small bowl add mayo, 1/2 tsp sriracha and 1 tsp water. Stir to combine.
6. To the large bowl with dressing, add cabbage, carrot ribbons, peppers and greens. Toss to combine.
7. Divide salad between plates, top with chicken, sprinkle with peanuts. Drizzle sriracha mayo over top.
main courses October 26, 2021 21:26
Share the recipe with your friends
No one has liked this recipe.
0 comments