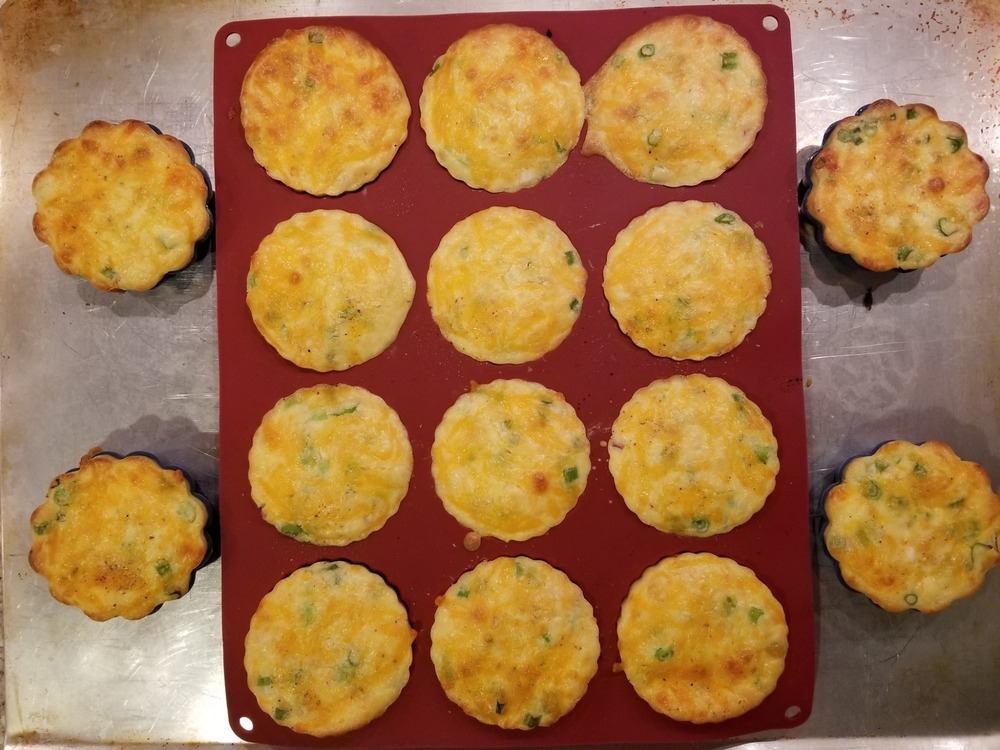 Ingredients
for 8 servings, 16 mini quiches
16 silicone tart pans or muffin cups
1 large cookie sheet
¼ lb block sharp cheddar cheese, shredded
¼ lb block Colby Jack cheese, shredded
1 small or ½ large red onion
1 small or ½ large sweet onion
4-6 green onions, chopped
1 small sweet bell pepper (red, yellow, orange or Aloha), chopped
2 t minced garlic (about 2 cloves)
Salt, to taste
Ground black pepper, to taste
¼ C cornstarch or all-purpose flour
1 pt heavy whipping cream
4 eggs
Hot sauce (e.g. Cholula), to taste (optional)
Prep. Time → 45 min
Cook Time → 15 min
1. In a medium bowl (preferably a sealable one), combine chopped peppers, onions and garlic and mix well. Cover and seal until ready to use. You can do this up to 2 days in advance and refrigerate.
2. In a separate medium bowl, blend the shredded cheddar and Colby Jack cheeses. For best results, purchase block cheese and shred yourself. Avoid pre-shredded cheese in a bag. Place the silicone tart pans on a large cookie sheet. Divide half of the cheese evenly among the 16 tart pans (just enough to cover bottoms). If necessary, use a food scale to help you measure precise amounts. Add onion, pepper and garlic mixture to each tart pan, leaving enough room for the remaining cheese. Top each tart pan with the remaining shredded cheese. Season with salt and pepper to taste.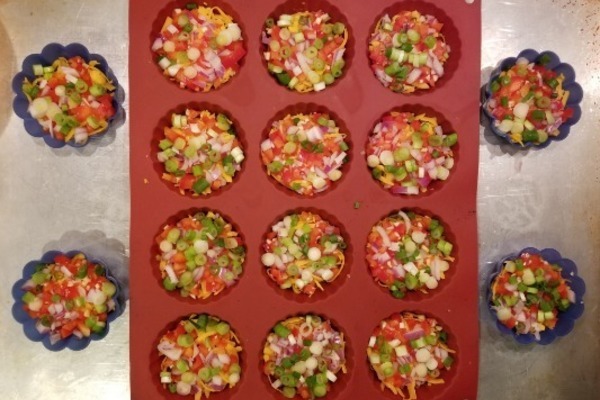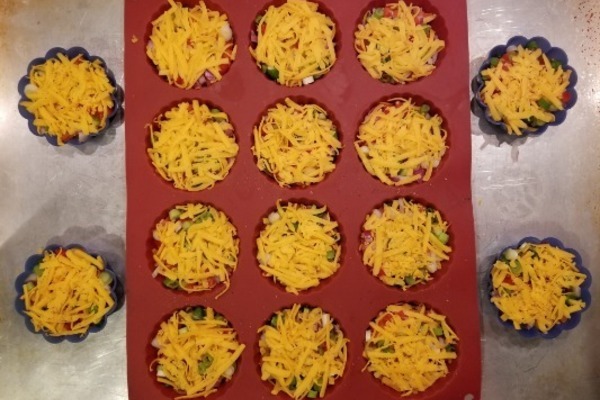 3. In a medium bowl (preferably a batter bowl with pouring spout), add the cornstarch or flour and about ½ C heavy whipping cream. Whisk until smooth. Add a few dashes of hot sauce (optional) and the eggs. Whisk until smooth. Gradually add remaining cream and whisk until no lumps remain. Carefully pour egg mixture into the tart pans or use a large turkey baster to add mixture to each mold. Do not overfill.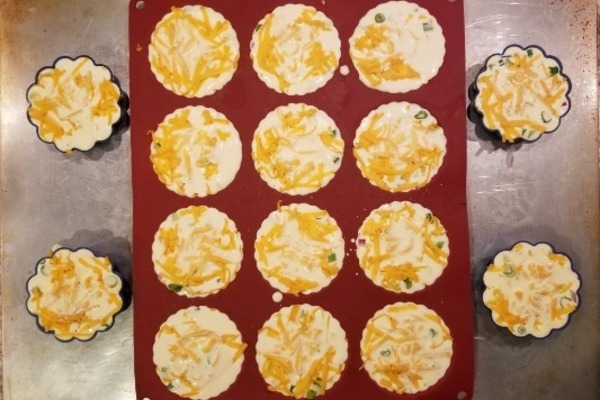 4. Preheat oven to 450°F. Bake quiches on the center rack for 15-18 minutes. Allow quiches to cool at room temperature for 10 minutes before removing them from the tart pans for serving. To freeze them for later use, place the silicone tart pans with the prepared quiches in the freezer or outside during frigid temperatures for about 2 hours (until they solidify), then pop them out and store in sealed freezer bags. To stack them inside a freezer bag, insert a piece of parchment paper between them to prevent them from sticking together.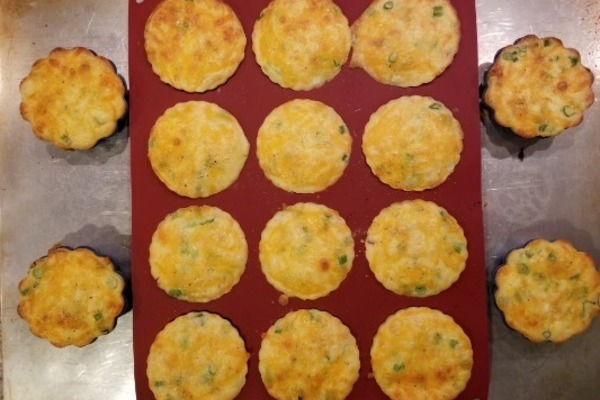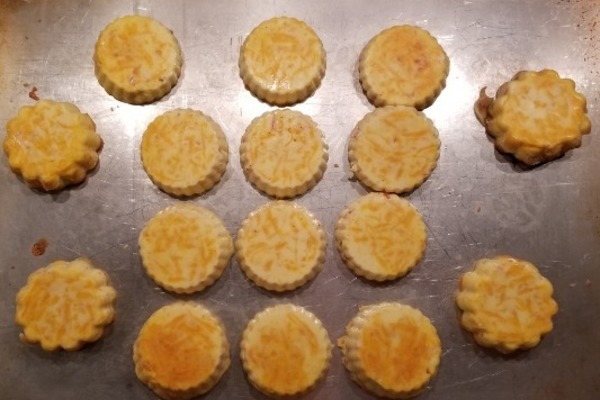 5. To reheat frozen quiches, preheat conventional or toaster oven to 400°F. Line a cookie sheet with either aluminum foil (lightly spray with cooking spray) or parchment paper (do not spray parchment). Place frozen quiches on cookie sheet in a single layer and bake for about 15-18 minutes until hot and bubbly. To reheat in the microwave (not recommended) place frozen quiches on a paper towel-lined plate, heat on low power for 2-3 minutes to defrost them, then on high for 30 seconds or until heated through.
appetizers, breakfast, cheese, cream, eggs, french, quiche, vegetarian January 28, 2019 15:47
Share the recipe with your friends
No one has liked this recipe.
0 comments