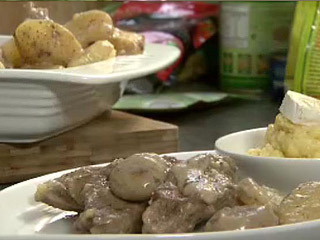 Ingredients
for 2 porciones
Colita de cuadril 1
Bolsas especiales para cocinar en horno 1
Papas grandes 1
Sal y pimienta c/n
Champignones en conserva 1 frasco
Caldo para saborizar de hongos 1 sobre
Queso crema 3 cdas
Cebolla de verdeo c/n
1. Cortar la colita de cuadril en churrascos.
Abrir la bolsa y poner una capa de papas en rodajas. Salpimentar.
Por encima, disponer una capa de champiñones con parte del líquido de conserva y 1 cda de caldo para saborizar de hongos.
Añadir encima los churrascos de cuadril.
Agregar el resto de las papas y el caldo. Terminar con queso crema.
Cerrar la bolsa y disponer sobre una placa.
Asar en horno medio por 30 minutos y servir con verdeo finamente cortado al bies por encima.
main courses September 25, 2012 12:31
Share the recipe with your friends
No one has liked this recipe.
0 comments