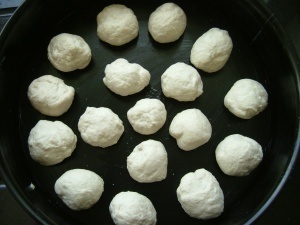 Strong white Tipo flour, (oo guage), 300ml (or there abouts) of tepid water, 1tb spoon of fresh yeast, castor sugar, salt. Olive Oil.
Prep. Time → 20 min
Cook Time → 15 min
1. So your 'gonna a make a some doughballs huh' yes you are my friends, yes you are :-) First, clean down a good work surface, try & make these in the morning, when its cooler. Run your hands under cold water when making dough. (little Italian tip there).
2. TO MAKE DOUGH
To produce, take your flour, approx 500g (please use a scale) of flour, 300ml of warm water, 1tbs of fresh yeast, 1tsp of castor sugar, 2tsp of salt, and 4tsp of virgin olive oil. Sieve the flour and salt together. If you are fortunate enough to have a mixer, just add all of the ingredients together and mix, using the dough hook, until a firm and even dough is formed. If not no worries, just do what I do, and use those hands. Work it baby work it!
3. Cover with clingfilm or a clean damp cloth and allow to rest before use. Otherwise place the flour and salt into a bowl. Make a well in the centre. Sprinkle the fresh yeast over the flour. Dissolve the sugar in the warm water, then add the olive oil. Pour into the well. Use a fork to bring the flour from the edges into the liquid. Mix until the flour and liquid is mixed together.
4. With floured hands turn the mixture onto a floured work surface, kneading until a smooth springy dough is formed. Dust with flour and place into a large bowl. Cover with clingfilm or a clean damp cloth. Allow to rest in a warm place for about an hour, until the dough has doubled in size. When the dough has risen place it onto a floured surface and knead it again, knocking out the air. Use immediately as required, or keep covered in a fridge for a day or so. Personally, I'd never keep it for longer than a day, in fact, I'd never leave it overnight, as its too quick & easy to make on-the-fly.
5. TO MAKE THE DOUGHBALLS
Preheat an oven to 200C gas mark 7. Take the prepared dough and sprinkle lightly with some of the parmesan cheese and a little cracked black pepper. Fold the dough onto its self. Divide into small balls, about quater the size of a pin pong ball. Place onto a floured baking tray. Cover with a damp cloth or oiled clingfilm. Allow to rest for 15 minutes.
6. Meanwhile peel and crush the garlic. Chop the parsley. Melt the butter in a pan over a low heat. Add the garlic and a little sea salt to the melted bitter. Cook until the garlic is softened but not coloured. remove from the heat. Add the parsley. Brush a little of the mixture over the dough balls.
7. Place into the oven. Bake for 15 minutes until golden. Remove from the oven. Brush with the garlic butter over the cooked dough balls and dust with parmesan cheese. Serve as required. May also be flavoured with fresh herbs or chillies.
starters, dough, doughballs March 27, 2012 11:47
Author Mario De'Cristofano