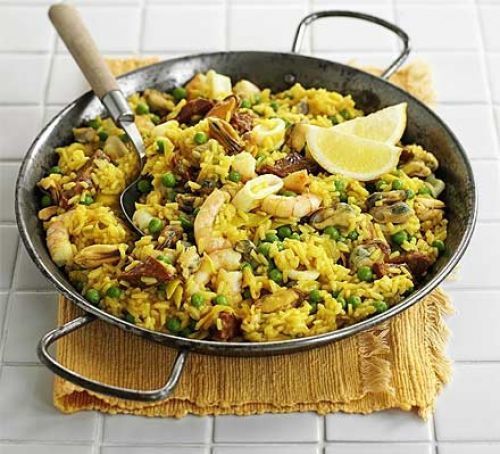 Ingredients
for 4 servings
1 tablespoon olive oil
1 leek or onion, sliced
4 ounces chorizo sausage, chopped
1 teaspoon turmeric
1-1/2 cups long grain rice
1 pound chicken stock
1 cup frozen peas
14 ounces frozen seafood mix, defrosted
Prep. Time → 5 min
Cook Time → 25 min
1. Heat the oil in a deep frying pan, then soften the leek for 5 mins without browning. Add the chorizo and fry until it releases its oils. Stir in the turmeric and rice until coated by the oils, then pour in the stock. Bring to the boil, then simmer for 15 mins, stirring occasionally.
2. Tip in the peas and cook for 5 mins, then stir in the seafood to heat through for a final 1-2 mins cooking or until rice is cooked. Check for seasoning and serve immediately with lemon wedges.
main courses, one pot, rice, sausage, seafood May 06, 2020 17:53
Author https://bbcgoodfood.com/recipes/e...
Share the recipe with your friends
No one has liked this recipe.
0 comments