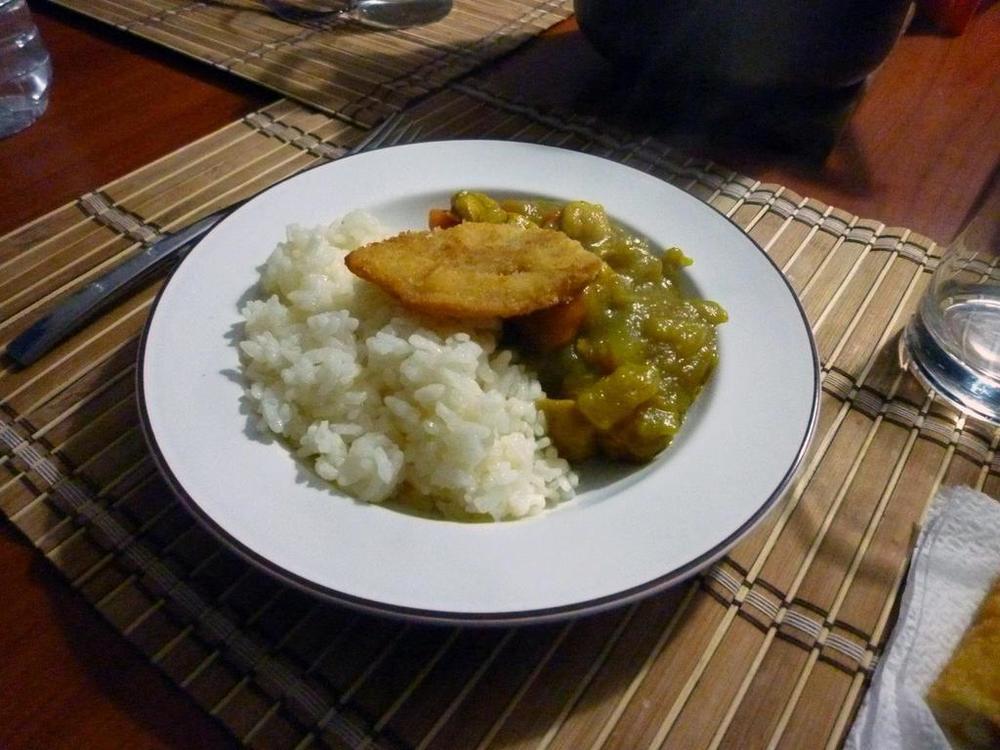 300g white rice
1 white onion
2 medium size potatoes
2 carrots
2 tbsp curry powder
1 tbsp flour
1 tbsp butter
400g chicken breast
1 stock cube
Prep. Time → 30 min
Cook Time → 45 min
1. Remove excess fat from the chicken breasts with a knife, then cut into bite-size pieces. Season thoroughly with salt and pepper.
2. Cut potatoes and carrots in cubes. Chop the onion coarsely.
3. Place a nugget of butter and 5 tbsp olive oil in a medium-large pot, heat it up and make a roux adding 1tbsp flour. When the roux is smooth add and sautee the onion until golden, for 5 minutes on medium heat.
4. Add the meat to the pot. Keep stirring for at least 5 minutes or until it changes color (chicken breasts should become completely white).
5. Add 500ml water, the vegetables, 1 stock cube, and 2tbsp curry powder. Stir thoroughly and cover the pot with a lid.
6. You can also add a grated apple along with the vegetables to get a sweeter curry.
7. Let it boil for 30 minutes on low heat, occasionally stirring. Then remove the lid and allow to get to the desired thickness. You can add another tbsp flour to thicken further.
8. At this point you can add a couple tbsp milk to make the curry milder, if it's too spicy.
9. While the curry is boiling, in another pot bring 450ml water to boil, add 1tbsp salt and add the rice. Boil for 12-15 minutes, the rice should have absorbed all the water. If it's still too watery, rinse using a strainer.
10. Serve the rice while hot, along with the curry. You can add a deep fried chicken croquette on top.
main courses, chicken, curry, japanese, rice January 17, 2014 16:34