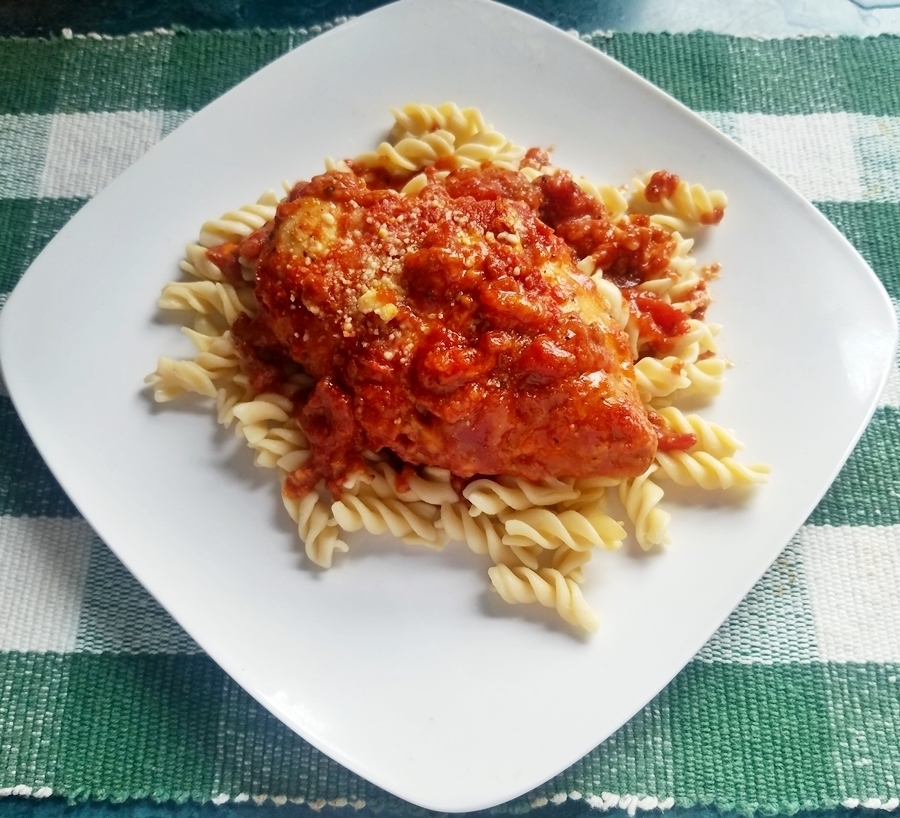 Ingredients
for 4 servings
4 Large Boneless Chicken Breasts
1/3 Cup Olive Oil
1/2 Cup Plain Bread Crumbs
1/3 Cup Flour
2 Tbsp. Dried Oregano
2 Tbsp. Dried Basil
1 Tsp. Black Pepper
1/2 Tsp. Sea Salt
1 Tbsp. Garlic Powder
2 Cups Marinara Sauce
1/3 Cup Dry Red Wine
3/4 Cup Shredded Mozzarella Cheese
Prep. Time → 10 min
Cook Time → 50 min
1. Heat oven to 400 degrees.  Drizzle olive oil in 9″ X 13″ baking dish.  Set aside.
Rinse the chicken breasts under cold water and dry with paper towels. Set aside.
2. In a large bowl, combine the bread crumbs, flour, oregano, basil, pepper, salt and garlic powder.  Mix well.
3. Bread chicken breasts in flour mixture and arrange in olive oil coated baking dish.  Bake at 400 degrees for 20 to 25 minutes or until browned.  Remove from oven.
4. Top with marinara sauce, red wine and cheese.  Cover and continue baking for 20 minutes.  Remove cover and bake an additional 10 minutes.
5. Serve with pasta and tossed green salad
Serves 4.  Can be doubled.
main courses, chicken, cleanfreshcuisine, delicious, familyfavorite, italianfood, parmesan, simple, onedishmeals, mealsforbusyweeknights June 22, 2018 13:00
Share the recipe with your friends
No one has liked this recipe.
0 comments