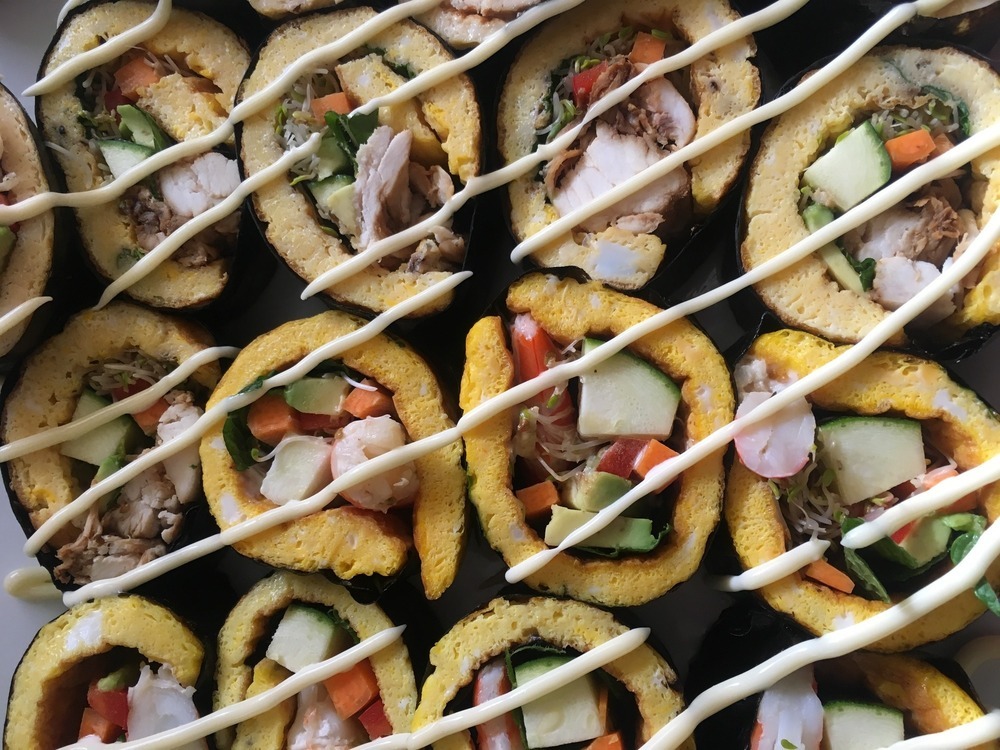 Ingredients
for 4 long rolls (can be cut into smaller bite sized pieces for serving)
6 nori papers
1 chick breast
8 eggs
1 avocado
2 tablespoons honey
2 tablespoons tamari sauce or soy sauce
Prep. Time → 20 min
Cook Time → 10 min
1. Slice chicken breast into narrow strips and marinate in the honey and tamari sauce.
2. Cook chicken strips and set aside to cool.
3. Place nori paper on a sushi mat.
4. Crack 2 eggs into a bowl and whisk lightly with a fork.
5. Pour egg into a heated small round frypan and cook on low until cooked through. Attempt to flip as a circle.
6. Once egg is cooked, place it on top of the nori sheet and cut about 1/8 piece in half.
7. Use the 2 halves to fill the top corners, making a solid sheet of egg.
8. Place fillings bout one third of the way down.
9. Wet the exposed nori at the bottom with wet fingers.
10. Roll up and seal with the wet end.
11. Repeat this three more times, or as many as desired.
starters, egg, ketogenic, low carb December 30, 2017 05:02
Author Eat Well, Be Well by Karen Land ISBN 9780646977492
Share the recipe with your friends
No one has liked this recipe.
0 comments