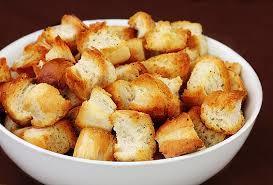 Ingredients
2 english muffins
sea salt
avocado oil
1. Small dice english muffins and put in a large bowl. Season with salt, drizzle with oil and toss to combine.
Place croutons on a parchment lined baking sheet and bake for 5-8 mins. Set aside to cool.
2. You can add whatever seasonings you want, garlic etc.
appetizers December 24, 2018 22:19
Share the recipe with your friends
No one has liked this recipe.
0 comments