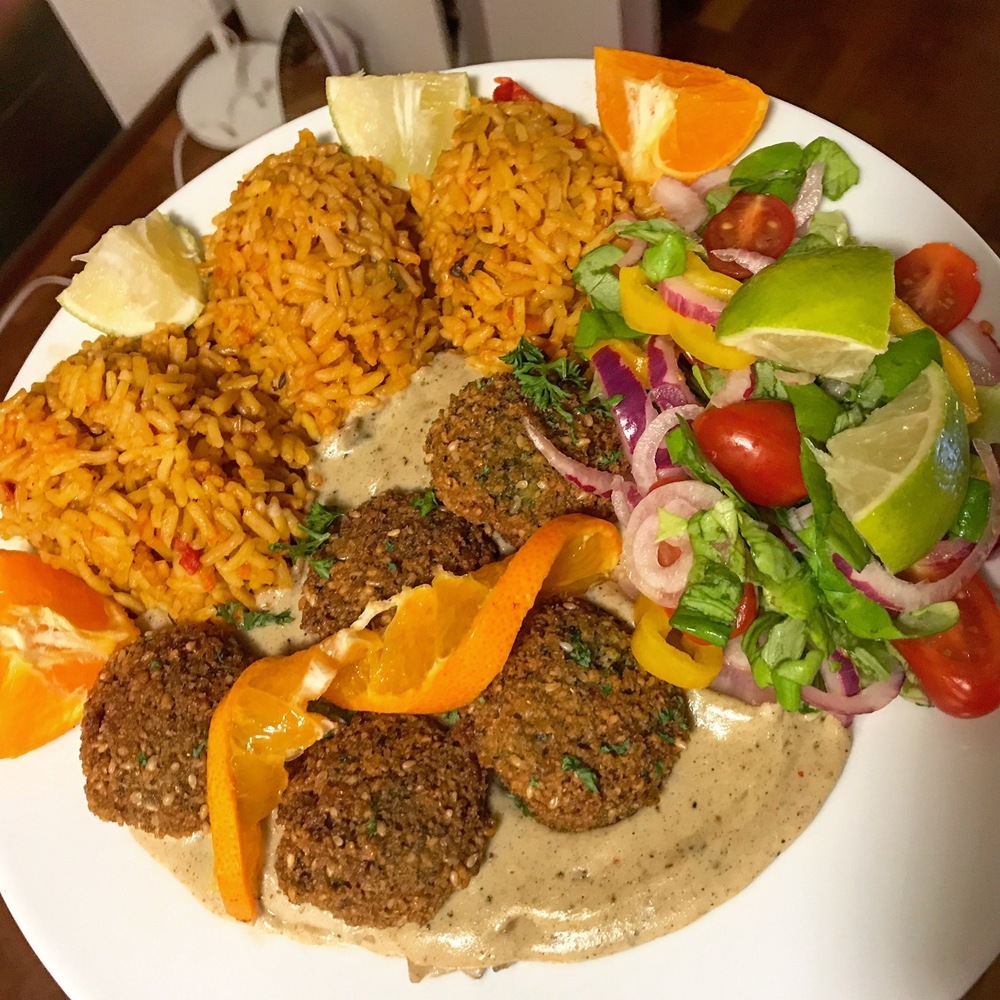 For the falafel
one cup of chickpeas
one small onion,finely chopped
pinch of fresh parsley
3 chopped garlic cloves
1 tbsp chickpea flour
pinch of salt
pinch of cumin
pinch of coriander
oil(for frying)
For the sauce
One cup vegan cream
One tbsp black pepper
Pinch of salt
For the Mexican rice
One cup rice
3 cups of water
Pinch of salt
Half bell pepper
Half onion
Pinch of cumin
Pinch of chili
One tbsp tomato paste
For the side salad
One Romaine lettuce
8 cherry tomatoes
Half bell pepper
Half onion
2 tbsp apple cider vinegar
Pinch of salt
*one lime and one mandarin
Prep. Time → 15 min
Cook Time → 20 min
1. 1.Add all the falafel recipes into a mixer bowl and pulse until you obtain a thick chunky paste
2.Start cooking the rice; cook until all the water has been soaked up
3.Cut up all the vegetables
4.In a small sauce pan mix the vegan cream,the black pepper and salt;start cooking on low for 7 minutes
5.Stir fry the bell pepper and the onion for 2 minutes
6.Add the tomato paste,the rice and all the seasonings; cook for 5 more minutes
7.Form the falafels
8.Heat up the oil in a skillet and deep fry the falafels
9.Mix the salad with the vinegar and salt
10.Plate and top with the lime and mandarin, it will boost your meal with a great taste!!!!
ENJOY!!!!
main courses, falafel, mexican rice, vegan, black pepper cream sauce September 09, 2017 21:32
Share the recipe with your friends
No one has liked this recipe.
0 comments