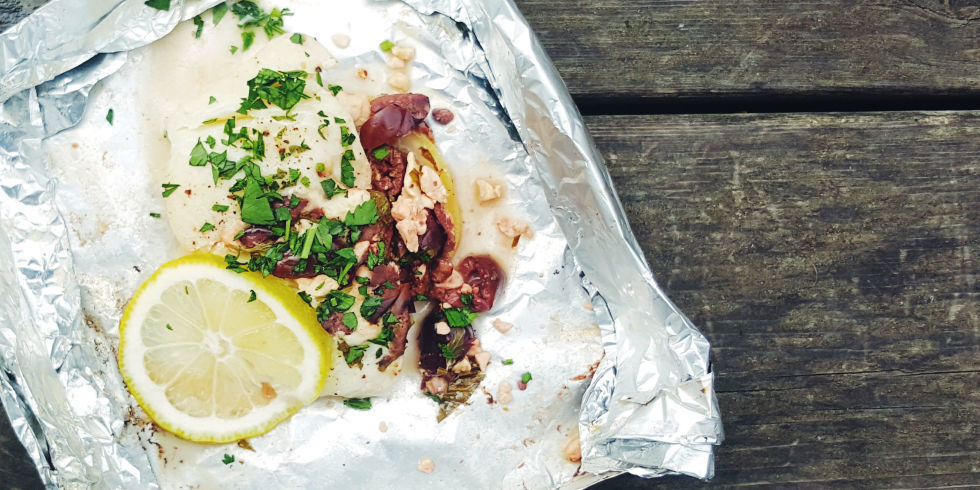 Ingredients
for 2 servings
1 tablespoon Kalamata olives, pits removed and roughly chopped
1 tablespoon Feta cheese, crumbled
1 tablespoon parsley, chopped
1 halibut filet
Kosher salt
Black pepper
Drizzle of extra-virgin olive oil
2 slices lemon
Prep. Time → 10 min
Cook Time → 10 min
1. In small bowl, combine olives, feta, and parsley, set aside.
2. Tear 2 pieces of foil that are about 12-inch by 18-inch and stack them on top of each other.
3. Place halibut on center of foil and top with olive mixture. Season fish with small pinch of salt and pepper and drizzle with olive oil. Place sliced lemon on top. Fold up packet ensuring you have a tight seal.
4. When ready to cook, place sealed packet on hot grill or over fire for about 10 minutes flipping once.
5. Remove packet from grill and pierce with knife or fork to allow steam to escape. Unfold packet and enjoy.
main courses, fish, grill, seafood, foil packs May 25, 2017 13:16
Author delish.com/cooking/recipe-...
Share the recipe with your friends
No one has liked this recipe.
0 comments